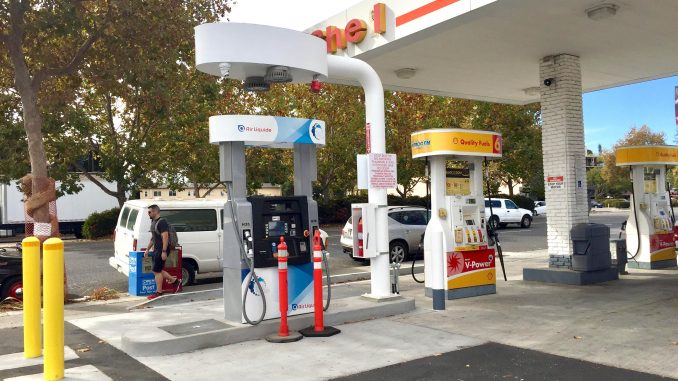 BY ALLISON LEVITSKY
Daily Post Staff Writer
People who want to drive non-polluting cars, rejoice: the Barron Park Shell station in Palo Alto is poised to open the first hydrogen fuel station between Mountain View and South San Francisco.
Dave Gidlund, who has co-owned the station at 3601 El Camino Real since 2000, said yesterday that he and his father had decided to install an Air Liquide hydrogen station both for the environmental benefit and "for our longevity, to have something other places don't have."
"I had never heard of hydrogen as a fuel, so I Googled it, and sure enough, there are now cars that want it," Shell customer Charlene Gibson said. The cars that will be using this new pump have hydrogen fuel cells. A fuel cell mixes compressed hydrogen with the oxygen in the air to generate electricity that can power a motor. Unlike a gas-powered internal combustion engine, the only byproducts from a fuel cell are electricity, heat and water. There are no emissions of pollutants that can cause global warming. Fuel-cell cars can be refueled in two to three minutes, unlike electric vehicles that can take several hours to fully recharge.
A fill-up costs about the same as fueling up with gasoline, Gidlund said.
More stations coming
According to the California Fuel Cell Partnership, there are 35 hydrogen stations operating in the state, with 29 others on the way.
Mountain View just got its first station this year, at Moffett Gas Mart at 830 Leong Drive. A hydrogen station is planned for the Valero station on Whipple Avenue in Redwood City in late 2019. Another one at the Skywood Trading Post in Woodside is currently under review.
Gidlund expects to open his hydrogen station in the next two weeks. And it's been a long time coming, he said: he and his father first started the approval process with local government entities three or four years ago.
An expensive addition
As part of the renovation to add the hydrogen station, the city required the Gidlunds to add a bike rack, an electric vehicle charging station and upgrade their station to better conform to the Americans with Disabilities Act.
Gidlund said the process has cost between $3 million and $4 million, between cranes, jack-hammers and cement work.
The six-month construction project really disrupted the station's auto repair business, Gidlund said, noting that he's "surprised I have any hair left."
The Gidlunds got approval from the city of Palo Alto, the fire department, Santa Clara County, the California Air Resources Board — and ran their plans by neighbors at the Barron Park Association, he said.
Some neighbors were concerned about the noise of fueling up with hydrogen, but most of the concerns were about the volatility of the process, Gidlund said, mentioning the Hindenburg disaster in 1937.
In reality, Gidlund said the station's volatility was "probably less than gasoline in some ways."