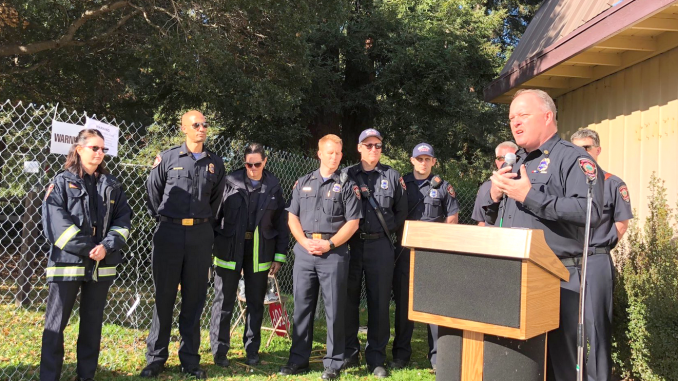 By the Daily Post staff
Palo Alto officials today (Jan. 30) broke ground on a $5.9 million, two-story fire station at Embarcadero and Newell roads, replacing a 70-year-old station that was too small and out of date. The new Fire Station 3 should be open by fall, officials said.
Strawn Construction Inc. will build the new fire station at Rinconada Park after submitting a winning bid of $5,944,000.
The new station will be two stories and total 6,663 square feet, replacing a 3,454-square-foot, one-story building.
One new feature of the fire station is that it will be a drive-thru. Trucks will enter on Newell Road and exit onto Embarcadero. That means trucks won't have to back in from Embarcadero, forcing traffic to wait.
The upstairs level will include three dormitory rooms, a captain's office, exercise room, kitchen and a day room, where firefighters will wait for calls. And, in addition to two stairways and an ADA-compliant elevator, there will be a traditional fire pole connecting the upstairs with the garage for the two trucks.
The fire crews at Station 3 will relocate to 2000 Geng Road a mile and a half away on the other side of Highway 101 during construction. Demolition began Monday.
Replacement of Fire Station 4 at 3600 Middlefield Road is next in line when funding is available.