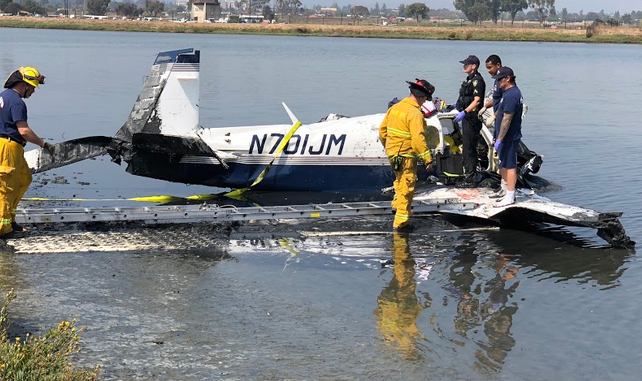 BY ALLISON LEVITSKY
Daily Post Staff Writer
A single-engine plane crashed into the Palo Alto Duck Pond around 11:10 a.m. yesterday, leaving a pilot who takes patients to hospitals as part of a nonprofit program dead and two passengers from Redding injured.
The plane had flown from Redding to Palo Alto as an "angel flight" provided through the nonprofit Angel Flight West.
Angel Flight West provides free flights and car rides to people heading to medical appointments. The pilot was a volunteer.
Authorities didn't release the pilot's name yesterday, but said he was about 60 years old.
The passengers were Nancy Dellamaria, 49, of Redding, and her daughter, Chloe King, 16, according to the Associated Press.
They were on their way to Lucile Packard Children's Hospital so the daughter could have surgery.
Federal Aviation Administration records show that the Mooney M20J is registered to W. John Spencer, a Placerville resident who has volunteered as a pilot for Angel Flight West for years.
In 2016, Spencer flew 32 missions for the Santa Monica-based nonprofit. In 2015, he flew 47.
Angel Flight West's Executive Director Josh Olson said yesterday's crash was "an unprecedented situation for us" — the organization's first fatality in 75,000 flights over 35 years of operation. Angel Flight West runs 5,000 flights per year.
"Our hopes and thoughts are with the families involved," Olson told the Post.
The National Transportation Safety Board and Federal Aviation Administration are investigating the crash. FAA spokesman Allen Kenitzer said the plane had crashed while the pilot was executing a go-around, having attempted to land once and then making a second try. The plane came to rest a quarter mile off the departure end of Runway 13.
Palo Alto Deputy Fire Chief Geo Blackshire said a worker in the tower asked the pilot if he needed help.
Palo Alto Community Service Officer Gabriel Mora was the first person to jump in the water to rescue the people in the plane, according to a witness.
Firefighters used plywood boards and a 24-foot extension ladder to help the women out of the plane, Blackshire said.
When Blackshire arrived, one firefighter was helping a patient to walk over to the ambulance. The other woman was packaged up on a backboard and carried to the ambulance on a gurney. Both were conscious and communicating with first responders, and both were in stable condition yesterday evening, according to Stanford Hospital spokeswoman Lisa Kim.
Two fire engines, one fire truck, a battalion chief and two ambulances responded to the crash along with police and Office of Emergency Services Director Ken Dueker.
"Our crews did a great job. They got both patients off the wing and into a higher level of care very safely and efficiently," Blackshire told the Post.