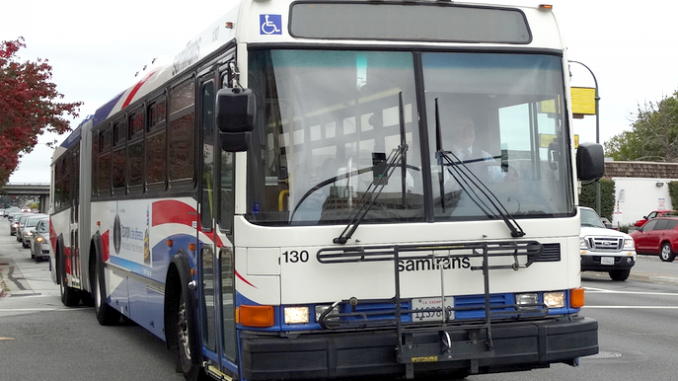 BY EMILY MIBACH
Daily Post Staff Writer
A state assemblyman is backing the SamTrans half-cent sales tax measure while San Mateo County's Republican party has come out against it.
Kevin Mullin, D-South San Francisco, San Mateo County Supervisor Dave Pine, San Mateo Fire Chief John Healy, public transit activist Adina Levin, Redwood City Councilwoman Alicia Aguirre, Belmont Councilman Charles Stone and Silicon Valley Bicycle Coalition Director Shiloh Ballard, have all signed the ballot arguments supporting Measure W.
On the other side of the issue is San Mateo County Republican chair John Boyle, former Pacifica councilman Peter Loeb, San Carlos Councilman Matt Grocott, Sierra Club Executive Committee Chair Gladwyn d'Souza, county Libertarian Chair Harland Harrison and bicycling advocate Andrew Boone.
The county's Republican and Libertarian parties both voted to come out against the measure, which would bring in about $80 million a year.
Two of the county's most influential public officials — Congresswoman Jackie Speier and state Sen. Jerry Hill — have yet to announce their position on Measure W.
Of that, $40 million would go to SamTrans and the rest would be divvied up among transportation projects around the county. While proponents of the measure say the tax will help alleviate the traffic that has a chokehold on the county, opponents say the only thing that will be moving as a result of the measure is money out of people's pockets.
Tech tax
The SamTrans tax isn't the only measure for which opposition has popped up. In East Palo Alto, Ravenswood Shores Business District President Jeffery Poetsch has signed the ballot argument against the city's commercial space parcel tax.
The so-called tech tax, if it receives two-thirds of the vote, will be imposed on office space in the city at $2.50 per square foot.
The tax is expected to bring in about $1.6 million a year.
At least 35%, or $560,000, would be spent on building low-income housing, a maximum of 15%, or $240,000, would pay for the city's staffing costs for implementing the tax, and the remainder would fund job training for residents.
May impede growth
Poetsch says the tax will impede the financial growth of East Palo Alto by keeping new businesses from setting up shop there.
Proponents of the tax — Senior Center President Millicent Grant, Mayor Ruben Abrica, Job Train board member Isaiah Vi, Pastor Paul Bains and Father Lawrence Goode — say the tax will not stop development and will ensure that large corporations can come into East Palo Alto.