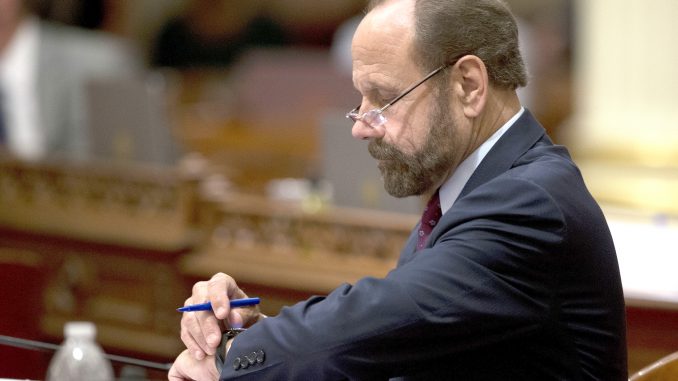 BY ALLISON LEVITSKY
Daily Post Staff Writer
State Sen. Jerry Hill, who represents the mid-Peninsula including Palo Alto, will consider Senate Bill 50 at the Senate Appropriations Committee today (May 16) — which will be the first time his constituents hear what he thinks about the controversial proposal that would pre-empt local zoning laws to allow denser and taller housing.
Last week, a spokeswoman for Hill told the Post that he "typically does not discuss his stance until the matter is before him in the hearing."
But Hill said he looked forward to considering the bill.
"Sen. (Scott) Wiener has worked hard to address stakeholder concerns on SB50," Hill said in a statement to the Post. "I look forward to the discussion on this bill to continue as it moves through the legislative process."
Wiener's bill would pre-empt local zoning in order to allow denser, taller housing near transit and in "jobs-rich" cities like Palo Alto. It would also allow quadplexes to be built in single-family neighborhoods.
North Bay exempted from bill
The last time SB50 was reviewed by a committee, Wiener was forced to make a major compromise to keep the legislation alive. Sen. Mike McGuire, a member of the Senate Governance and Finance Committee, convinced Wiener to amend SB50 so that it would exempt smaller cities and counties. The move exempted McGuire's constituents in Marin and Sonoma counties from SB50.
The Appropriations Committee reviews bills that spend a substantial amount of state money or result in a substantial loss of revenue to the state. It is a key committee in deciding whether bills move forward.
A number of elected officials on the mid-Peninsula have come out against the bill, stating that it would threaten quality of life by allowing tall apartment buildings next to single-family homes.
Others, including several officials from East Palo Alto and Palo Alto Vice Mayor Adrian Fine, support the bill, citing the severity of the housing crisis.
Hill isn't afraid to take unpopular positions on bills. In 2012, he voted to fund the first segment of high-speed rail even though there was widespread opposition to the project on the Peninsula.
How to watch the hearing
The Appropriations Committee will start around noon today, depending on when earlier meetings adjourn, and can be live-streamed at calchannel.com/live-webcast.