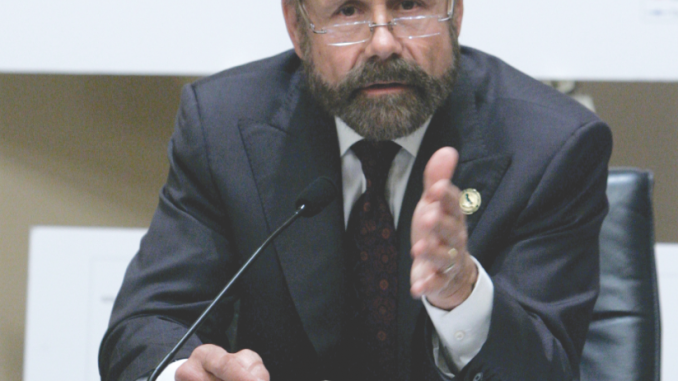 State Sen. Jerry Hill, who represents most of the mid-Peninsula, is slamming PG&E's widespread power outages in a letter he sent to the state's energy regulator.
"I strongly disagree with the binary position currently offered by PG&E — they can turn the power off and shut down the economy and livelihoods of millions in California, an action which may protect us from a wildfire; or they can roll the dice and continue with the lights on, and risk an enormous fire starting from their power lines. This situation is not acceptable nor sustainable," Hill wrote in his letter criticizing PG&E's lack of finesse in executing the power outages that are estimated to have impacted some 2 million Californians.
Hill, in his letter to the California Public Utilities Commission, said that the so-called "public safety power outages" are meant to be a temporary tool to be used as a "surgical, last resort measure."
PG&E, which is in bankruptcy after it was hit with billions of dollars in lawsuits over wildfires its lines caused in 2017 and 2018, now has a policy of shutting down the power if forecasts show winds might knock down electrical lines.
The policy would affect Palo Alto because even though the city owns its own utility system, it obtains power from PG&E transmission lines.
Socal utility handles it differently
Other state officials yesterday criticized PG&E for the widespread outages, comparing the utility to Southern California Edison, which has been de-energizing power lines in fire-prone areas since 2003.
Gov. Gavin Newsom yesterday repeatedly held up Edison's protocol of being able to easily turn the lights on and off for swaths of Southern California in order to avoid fires.
With a program called Operation Santa Ana, started 20 years ago, the company's vegetation management staff work with fire agency personnel to patrol overhead power lines during times of high fire risk.
Edison's equipment was blamed for starting 456 fires from 2014 to 2018, compared to the 1,986 started by similarly-sized PG&E.
Newsom said PG&E's decision to cut power to a million people in Northern California to prevent a catastrophic wildfire should not be blamed on climate change. Instead, he said he believes the blackouts were the result of mismanagement, "greed and neglect" by the utility.
Newsom added that PG&E has advanced profits, not public safety in recent years. He did not acknowledge any role the state or the California Public Utilities Commission might have played.
"What has occurred in the last 48 hours is unacceptable," Newsom said. He listed problems such as school closures and people who "can't even access water or medical supplies."
California Public Utilities Commission president Marybel Batjer also said the outages have been "unacceptable."
"The impacts to individual communities, to individual people, to the commerce of our state, to the safety of our people has been less than exemplary," Batjer said.
Residents took their anger out on PG&E a little differently. A customer threw eggs at a PG&E office in Oroville. And a PG&E truck was shot at in Colusa County. The utility also put up barricades around its San Francisco headquarters.
PG&E is learning how to do outages
Ideally, the deliberate blackouts are to become less disruptive, according to Michael Wara, a researcher on energy and climate policy at Stanford University.
Grids are built and operators are trained to keep the power on at all times, so the company and its employees have little experience with intentionally turning the electricity off in response to rapidly changing weather, he said.
"That's a skill that has to be learned, and PG&E is learning it on a mass scale right now," Wara said.
After a June shut-off in the Sierra foothills, PG&E workers reported repairing numerous areas of wind damage, including power lines hit by tree branches.
"That was worth it," Wara said of the deliberate blackout. "That could have prevented a catastrophe."
— From staff and wire reports