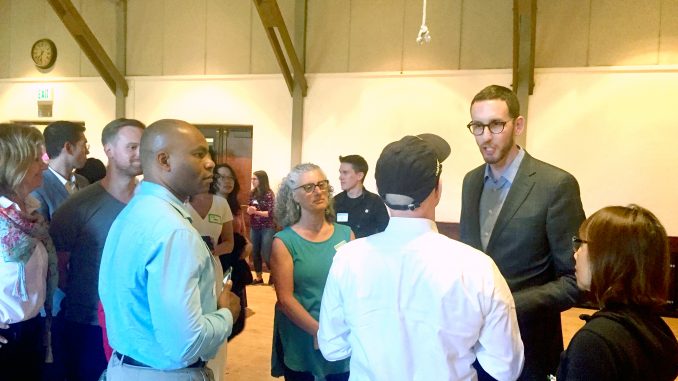 BY ELAINE GOODMAN
Daily Post Correspondent
A 37-year-old California housing law is receiving a fresh wave of attention from Sen. Scott Wiener, one of the biggest housing proponents in the state Legislature.
Wiener last week used what's known as a "gut and amend" maneuver to completely rewrite a bill unrelated to housing, SB592, substituting language that he says will close loopholes in the state's Housing Accountability Act. The original SB592 addressed licensure for barbers and cosmetologists.
The Housing Accountability Act, enacted in 1982, is intended to make it harder for local governments to block housing projects. It's sometimes referred to as the anti-NIMBY law, which refers to residents who say "not in my backyard" when it comes to new development.
Under the Act, a proposed housing project that complies with a city's zoning and general plan can't be rejected — unless the city can detail in writing why the project would have an unavoidable impact on public health or safety. The city also can't add requirements to such a project so that it would no longer be feasible to build. But the law has had little impact until recently, Wiener said.
"Until a few years ago, many cities ignored it and it wasn't enforced," Wiener said Sunday (June 16).
A broader definition of a housing development
Wiener's new version of SB592 would clarify that a housing development doesn't have to be a multi-unit project to be covered by the Housing Accountability Act. A project could be a single housing unit; an accessory dwelling unit, or so-called granny unit; or even the addition of one or more bedrooms to an existing home, under the bill.
The Housing Accountability Act that's now law says a city can't vote to reject a housing project that complies with its zoning and general plan. SB592 would change "vote" to "take action" regarding a housing project.
That's because some projects aren't required to go to a city council or planning commission for a vote, but may be approved by city staff.
In addition, if a developer takes a city to court for rejecting a housing project and wins, SB592 would allow the developer to receive compensatory damages, in addition to attorney fees.
Wiener said the rewrite of SB592 wasn't prompted by any particular housing projects that are pending. And as for the original SB592 regarding barber licensing, Wiener said the bill was intended as a placeholder and wasn't expected to become law.
Wiener has been in the spotlight in recent months for another bill he has introduced, SB50. The bill would preempt local zoning and allow denser housing near transit and jobs.
SB50 is still on hold
The bill stalled last month when it failed to get out of the Senate Appropriations Committee. SB50 was changed to a two-year bill, meaning Legislature wouldn't again consider it until January 2020.
Wiener said he's not currently expecting that timeline to change, and he's not aware of plans to incorporate SB50's provisions into other bills.
But "things can change on a moment's notice," he said.
Some California cities have been taken to court in recent years for alleged violations of the Housing Accountability Act, and the law has been strengthened through legislation that took effect last year.
Local governments now face a tougher standard for showing there are reasons a housing project should be rejected; attorney fees are now authorized in more cases; and the law now requires fines if a city loses a Housing Accountability case in court and fails to comply with the Act within 60 days. The fine is a minimum of $10,000 per housing unit.