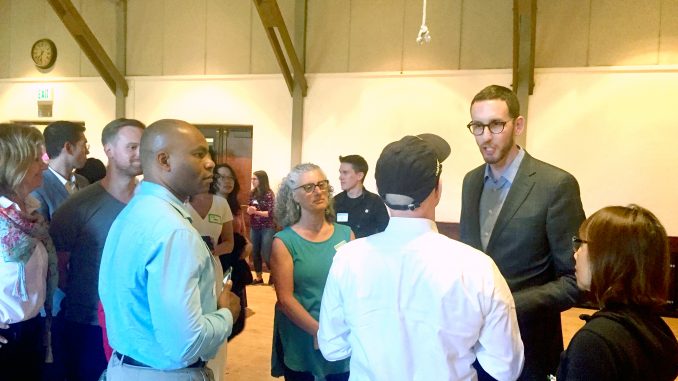 BY ALLISON LEVITSKY
Daily Post Staff Writer
State Sen. Scott Wiener, D-San Francisco, on Friday (June 7) defended his controversial Senate Bill 50 in Palo Alto — a hotbed of opposition to the bill that would permit quadplex homes throughout most of the state and allow dense apartment buildings throughout "jobs-rich" cities.
Wiener spoke to a crowd of more than 100 at Lucie Stern Community Center.
No one protested or heckled Wiener during the talk, which has happened at events in other cities.
Still, Palo Alto Councilwoman Liz Kniss, seated in the front row, noted the energy in the room.
"It's a wild night," Kniss told the Post. "I don't think we've ever had someone from another district come and attract this many people. It's sort of a benchmark."
Wiener, 49, said SB50 is the answer to the state's 3.5 million-home deficit, which he said is the result of a "systematic" downzoning of the state in the 1970s and 1980s, making it illegal to build apartment buildings in 75% of the state, including San Francisco and Los Angeles.
Zoning that only allows for single-family homes is a ban on affordable housing and income diversity, Wiener said.
"You're putting up a sign that says 'If you can't afford the $3 million average single-family home in Palo Alto or the $2 million average single-family home in San Francisco, you're not welcome to live here,'" Wiener said. "Zoning has always been viewed as a purely local concern, and I respect that as a former local elected official, but that no longer works."
Local control
Opponents to the bill, which won't be voted on until next year, say that it amounts to an attack on local control over zoning.
But Wiener, who served on the San Francisco Board of Supervisors, said SB50 would "do a re-balancing" of power between local government and the state.
"This isn't about blaming cities. City council members have one of the hardest jobs on the planet," Wiener said, prompting Councilwoman Kniss to mutter "amen."
"But local control is not biblical. Local control is a good thing where it leads to good results," Wiener said.
In California, Wiener said, local governments have wielded too much power over the development process. City councils can deny and delay projects to the point where they are never built.
And SB50 would defer to local setbacks, demolition standards, local design standards and historic standards.
That means developments would still have to be reviewed by cities' architectural review and historic resource boards, as they do now.
And while the bill would allow single-family homes to be turned into duplexes, triplexes and quadplexes throughout the state — except for zones with high wildfire risk, floodplains and coastal zones in small cities — those homes wouldn't be allowed to gain more than 15% of their current footprint.
Preventing displacement
To prevent displacement, SB50 wouldn't allow properties to be torn down within seven years of a tenant living in it, or within 15 years of an Ellis Act eviction.
The Ellis Act allows landlords to evict tenants if they are taking their properties off the rental market.
The bill would not allow property owners to tear down single-family homes to turn them into multi-family homes, Wiener said.
He noted that a report from the Palo Alto-based Embarcadero Institute that stated that SB50 would nearly triple Palo Alto's population was "melodramatic" in its assumption that the "entire city would be demolished and rebuilt."
"It's going to be very gradual over time," Wiener said.
One audience member asked whether some cities should be exempted if they prove that they can get housing built without prompting from the state.
Housing near jobs and transit
Wiener said he thought housing needed to be built near jobs and transit, and that the current system for evaluating cities for their housing production, the Regional Housing Needs Allocation, was a "broken" system that allowed wealthy communities to shirk off their obligations to permit homes.
Beverly Hills, for example, has an allocation of three housing units for an eight-year period. And Cupertino, which Wiener said has welcomed "endless Apple expansions but not much housing," is up to pace with its RHNA.
Wiener said the question reflects an assumption that "housing is a punishment, that bad and naughty cities should get the housing."
"Housing is not punishment, in my view. Housing is a good thing," Wiener said. "It's one of the things that everyone needs. So for cities that are meeting their goals, I think it's really about if we're going to build 3.5 million homes, where is it sustainable and ideal to build them?"
Wiener's talk was hosted by Palo Alto Forward, TechEquity, the League of Women Voters, Silicon Valley Community Foundation, SV@Home, San Mateo County Housing Leadership Council and Peninsula For Everyone.
Dispute over questions
After the talk, attendee Paul Martin sharply criticized moderator Elaine Uang, the president of pro-growth group Palo Alto Forward, for her "filtering" of audience questions, which she read from index cards.
Martin told Uang the event had been a "complete failure" as a public forum because she had chosen only "softball" questions for Wiener.
Uang told the Post that she felt she had chosen questions from across the spectrum, including questions about building height, school funding and parking restrictions.