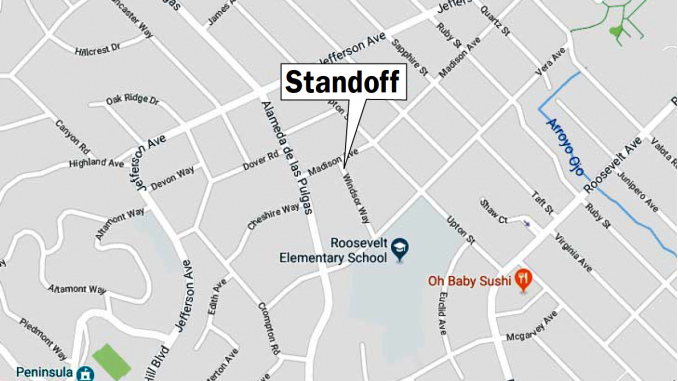 BY EMILY MIBACH
Daily Post Staff Writer
A former Redwood City police officer who was in a standoff with cops for nearly 18 hours on Thursday (Aug. 9) posted $50,000 bail Friday and walked out of jail, according to authorities.
James "Jim" Arthur McGee, 54, was an officer with the Redwood City police department from Jan. 7, 1985, to June 30, 2013, according to Deputy City Manager Alex Khojikian.
At the time of his retirement, the Redwood City resident had a yearly salary of $118,692 plus benefits.
In 2012, the last year he worked a full calendar year, he made $215,296, including benefits, according to salary database Transparent California. Transparent California also reports that in 2014, the last year of available information for Redwood City pensions on the site, McGee received a $123,925 pension.
Dog Day Afternoon

The incident leading up to McGee's arrest started at 2 a.m. Thursday, when police got calls from a woman who said she was a victim of domestic violence in a home on the 700 block of Windsor Way.
The woman was outside of the home when police arrived, and McGee was inside, refusing to come out, according to a statement from Lt. Sean Hart issued on Thursday.
Authorities negotiated with McGee throughout the day and he was eventually able to communicate with them.
Redwood City police arrested McGee around 7:30 p.m. Thursday, some 17 and a half hours after the standoff began.
McGee was taken into custody "without significant injuries to anyone," Hart said.
He was booked into jail on a single felony domestic violence charge, according to Hart's statement. With a bail of $50,000, the typical defendant would only have to pay a bail bondsman $5,000 to get out of jail.
The victim was taken to a hospital with injuries not considered life-threatening and she has since been released, Hart said.
Hart said the outcome was positive even though it took a long time to convince McGee to come out of the home.
Neighborhood distrupted
Police had asked some people in the neighborhood to stay in their homes during the episode and suggested others evacuate. A search had been underway Thursday night to see if a gun was in the home.
Hart didn't think the victim had been shot.
Police don't return calls
The Post called and emailed Redwood City police several times yesterday seeking more information regarding the standoff and McGee, but the department did not respond.
Typically, when a suspect is arrested, Redwood City police release their name and mug shot in an email to press. However, McGee's name was not included in the email about this case sent out by Lt. Sean Hart on Thursday night, nor was his mug shot. The Post requested a mug shot both from Redwood City police and the San Mateo County Sheriff's Office.
The case has not been submitted to the District Attorney's Office yet, according to Chief Deputy District Attorney Karen Guidotti, so she was not able to authorize the release of McGee's mug shot yesterday or provide the Post with any additional information on the case.