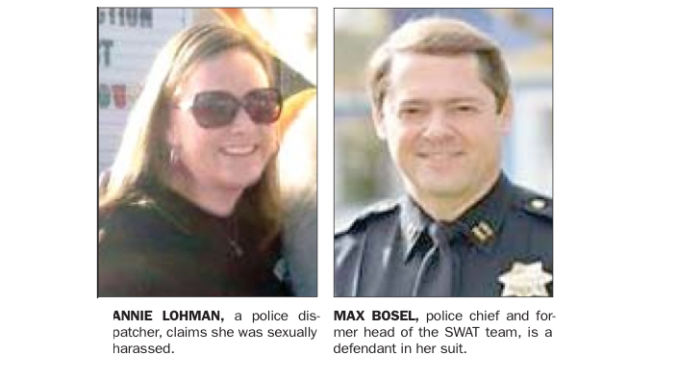 BY ALLISON LEVITSKY
Daily Post Staff Writer
The city of Mountain View has asked a judge to throw out a lawsuit filed by a police dispatcher who claims she was discriminated against, retaliated against and sexually harassed by Chief Max Bosel when he was on the SWAT team.
Annie Lohman, who left the department in May after 15 years as a dispatcher, filed the suit on March 7, 2016, and is represented by the San Jose law firm McManis Faulkner.
Attorney Jim McManis said yesterday (July 27) that he was confident that Santa Clara Superior Court Judge Peter Kirwan would deny the city's motion and bring the case before a jury.
"The city has been dragging its feet and I understand why, because they don't want to have this case ever see the light of day in a courtroom," McManis told the Post. "It's a terrible thing that they did to her and continue to do to her."
Lohman alleges that Bosel rubbed her shoulders several times, "actively encouraged" sexually explicit banter, lewd jokes, nudity and simulated sex acts from 2006 to 2010 and that she rebuffed his sexual advances.
When Bosel learned that Lohman was dating Sgt. Scott Thomas, who she married in 2015, Bosel allegedly "no longer perceived (Lohman) as a willing participant" in the inappropriate conduct and demonstrated a "clear animus" toward her.
She also says that female dispatchers for the SWAT team were referred to as a disparaging two-word term.
The first word of the term was SWAT, and the second word rhymed with SWAT with an "s" on the end.
The police department repeatedly investigated Lohman's performance and placed her on paid leave.
Lohman claims investigations into her performance were instigated as retaliation.
City cites poor performance
The city has cited 25 incidents allegedly showing her poor performance between 2013 and 2015, including not getting the name of a witness to a homicide at Shoreline Amphitheater and not giving instructions on CPR to a caller reporting an unconscious gym-goer turning purple on the basketball court at 24 Hour Fitness.
In the city's motion for summary judgment filed on July 20, attorneys for the city argues that it's legally too late for Lohman to complain of sexual harassment that she says took place in 2006, 2007 and 2010, and that the instances she cites aren't severe or repetitive enough to qualify as legally actionable sexual harassment.
The city also says that Lohman didn't meet the deadline of filing an administrative complaint within a year of the conduct between 2006 and 2010. SWAT members told an investigator for the city that Lohman had participated in lewd behavior at boozy parties with her coworkers, including playing strip poker, buying a lap dance for a colleague and fondling his privates during the dance, sitting on her male colleagues' laps in a hot tub despite being asked not to and having sex with a SWAT member while his roommate was in the room at an out-of-town SWAT training.
'That's just a smear job'
McManis said Lohman would be "an excellent witness" and that Bosel and other members of the police department had retaliated against her after she "made it clear she wanted nothing more to do with any of that," referring to the racy behavior at SWAT parties. "That's just a smear job. They're trying to smear her, make her look bad, shame her. And there's some term for that these days, 'slut-shame' someone," McManis said.
"She was the dispatcher for the SWAT team and was included in the team's activities, and so she didn't have much choice about attending these so-called meetings and outings, if you will."
Kirwan is set to hear the city's motion for summary judgment on Oct. 4.