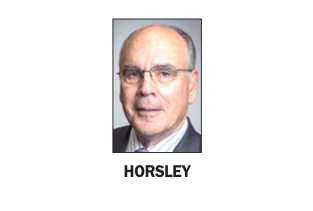 DAILY POST EDITORIAL
San Mateo County Supervisor Don Horsley, at age 75, sounds like a young man when he discusses his ambitious agenda if he is re-elected in the June 5 primary.
At the top of his list is traffic — a priority we can all agree upon.
He is working with residents in unincorporated west Menlo Park to reduce speeding along Alameda de las Pulgas and Santa Cruz Avenue. Instead of a head-strong, the county-knows-best approach, he's listening to residents to come up with the right approach for that busy area.
A big traffic problem faced by everybody on the Peninsula is Highway 101, and as a county supervisor, he's supporting a tax this November that would make the freeway more efficient with Express Lanes and connecting auxiliary lanes. He also looking for money to build bridges either under or over Caltrain so traffic doesn't get backed up at crossings when a train goes by.
We don't agree with him about raising taxes, but we applaud his desire in getting traffic moving.
We also disagreed with Horsley and the rest of the county supervisors when they decided last year to spend $700 million on county office buildings and medical facilities. We think the money should have been spent on housing, which should be a bigger priority than office space.
But that objection aside, Horsley has a long history of providing good service to his constituents going back to his days as county sheriff.
Horsley is very responsive to resi- dents. When there's a problem, he gets right on it.
His opponent, Dan Stegink, a Pacifica planning commissioner, is running on a program of banning truck traffic on major highways like Highway 92 during commute hours, closing the Ox Mountain landfill near Half Moon Bay and tackling the county's pension liabilities.
If you close that landfill, you'll have to truck the garbage to San Jose or the East Bay. Doesn't that increase your carbon footprint? Isn't closing the landfill supposed to be an environmental move?
A better path for Stegink would be to run for city council in Pacifica. There he would get the kind of experience that would prepare him for the county Board of Supervisors.
Horsley, on the other hand, has years of experience and is a steady hand on the Board of Supervisors. We recommend voters re-elect him on June 5.
— Editor Dave Price
Other recommendations for the June 5 primary:
• Vote "no" on recalling Judge Persky
• Cindy Hendrickson for Santa Clara County Superior Court Judge
• Re-elect Santa Clara County Sheriff Laurie Smith
• Carlos Bolanos for San Mateo County Sheriff
• Re-elect San Mateo County Judge Gerald Buchwald
• Nancy Magee for San Mateo County school superintendent
• Re-elect Mark Church as San Mateo County assessor, clerk, recorder and elections officer
• Vote "no" on the toll hike, Regional Measure 3
• Our recommendations on the five state ballot propositions