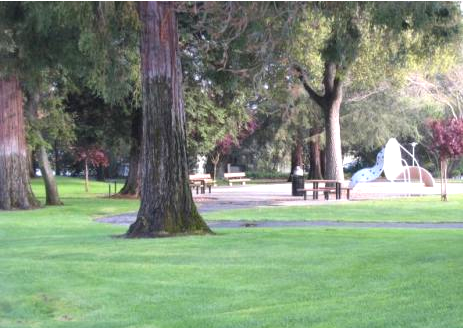 BY ALLISON LEVITSKY
Daily Post Staff Writer
A group of Los Altos residents are preparing to collect signatures for a November ballot measure that would stop the city from selling more than 7,500 square feet of public land without voter approval.
Jim Jolly, who is leading the effort, said he remembers working for Intel in the early 1970s, when there were only two buildings off of Bowers Avenue in Santa Clara. The rest was open fields, he said.
"The pressure to just build more and more houses for more and more employees is intense and doesn't seem to be diminishing," Jolly told the Post, referring to expansions by tech giants like Google, Facebook and Apple. "And they have deep pockets."
Jolly says he wants to keep the city from losing public land to the pressure to expand. Currently, the sale of public land is at the whim of City Council.
"Sometimes you get (council) members who are more 'Let's keep Los Altos as much as we can the way it is' versus 'Let's change it and put three-story buildings downtown,'" he said. "We have very little park open space for our citizens, and the complexion of our council changes periodically."
A 2012 report showed that Los Altos had less than 1.6 acres of park land per 1,000 residents. Palo Alto and Mountain View each had more than 2.5 acres.
Menlo Park had almost 1.7 acres per 1,000 residents, San Carlos had more than 5 acres and Burlingame had almost 3.3.
The exception of pieces of land of up to 7,500 square feet allows the city to sell utility or traffic easements, which usually aren't controversial, Jolly said.
Jolly has lived in Los Altos since 1977, but said some of the volunteers who will be collecting signatures are newcomers. The title of the proposed measure is Protect Our Parks and Public Lands.
2,000 signatures needed
Volunteers will need to collect about 2,000 signatures in order to qualify the measure for the November ballot.
Jolly said he doesn't want to see the city sell off plots of land to support downtown commercial activities or to build new and affordable housing developments without voter approval.
The initiative would allow these lands to be rented for up to 180 days per year.
Controversy over the sale of public land has popped up in Los Altos several times over the last few years.
"There's a lot of people who are trying to get their hands on our park land," supporter Roberta Phillips told the Post.
Wojcicki proposal criticized
Personal genomics pioneer Anne Wojcicki's development company, Los Altos Community Investments, pulled their 91,200-square-foot First Street Green office project on Oct. 11 after some were critical of a private company buying and developing public land.
The three-story, 77,000-square-foot building was planned for 101-151 First St. and on a 14,200-square-foot portion of Public Parking Plaza No. 7.
The plaza would have done away with 67 parking spaces at the public lot and moved them into a three-level underground garage proposed as part of the project.
In 2014, 57.4% of voters approved Measure N, a $150 million bond measure for the Los Altos School District to expand and upgrade schools, upgrade classrooms and labs, update technology and construct or equip classrooms and schools.
The idea of using the money to building a new elementary school at Hillview Community Center was proposed, but didn't succeed.
"It's really giving the voters an opportunity to decide the future of our parklands and public lands," Phillips said.