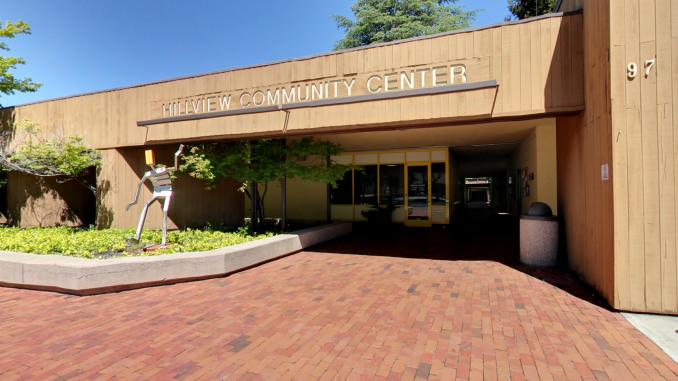 BY ALLISON LEVITSKY
Daily Post Staff Writer
A controversial 20-year lease between the city of Los Altos and a private daycare operator being promised first dibs on facilities at the new Hillview Community Center won't return to City Council until after Jan. 9, City Manager Chris Jordan told the Post.
That's when Jordan expects council to review the city's 10-year financial forecast, which was the reason that Councilwoman Mary Prochnow gave on Nov. 28 for why the vote on the lease with Children's Corner was unexpectedly pulled from the council agenda.
The room was packed with at least 25 residents wearing red and green shirts, indicating their opposition or support of the proposed lease.
Nearly all of the 13 people who spoke during the public comment segment of the meeting expressed concern that the new center would not be able to accommodate the Mountain View Los Altos School District's adult education program, which currently holds classes at Hillview.
Jordan said Friday that the postponement of the item had "absolutely nothing" to do with the number of residents who showed up to the meeting to complain.
City leaders have not given an explanation for why the 10-year forecast was not completed before the meeting.
Space wasn't put up for bids
Jordan's negotiations with Children's Corner have raised eyebrows because the city has not issued a request for proposals to compare the nonprofit, which has leased space at Hillview since 1981, with other options that may better serve the city.
When asked why the city hadn't done so, Jordan declined to respond other than by referring to a discussion had at a council meeting about the issue on Oct. 10, where some council members characterized the decision as continuing a positive landlord-tenant relationship.
"There's been a preschool at Hillview Community Center for almost 40 years," Jordan said. "At this point, the City Council has said yes, based upon a certain financial situation."
The city has not made public outreach efforts to gauge community interest in keeping Children's Corner at Hillview, and has not formally had the notion of having a private daycare at the center approved by council.
"There hasn't been any outreach like that. On the other hand, you frankly would never get an answer," Jordan said, explaining that even if public outreach efforts were made, a fraction of the community would show up. "A meeting doesn't do anything."
The city has held a number of public meetings for its Downtown Visioning project to gather community input on what qualities and amenities residents want from downtown Los Altos. But Jordan said that was a different kind of public outreach than the Hillview issue, since Children's Corner is more of a yes-no question.
Adult education classes
As for community fears that Mountain View Los Altos School District adult education classes will be pushed out of Hillview, Jordan said, "That's just hearsay."
At Tuesday's council meeting, Recreation and Community Services Director Manny Hernandez is slated to show how the classes can be accommodated at the new center. But the Children's Corner question will still be weeks away.