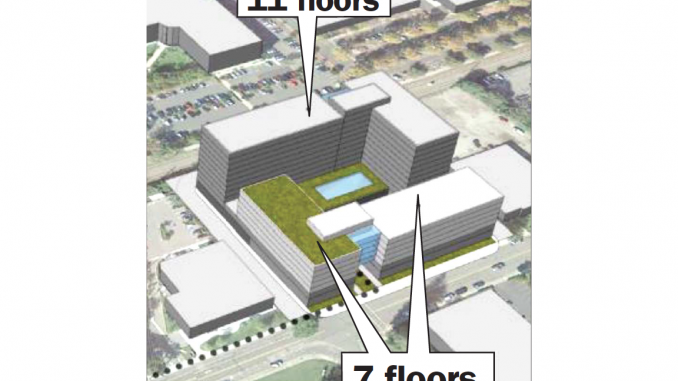 BY ELAINE GOODMAN
Daily Post Correspondent
The city of Mountain View is moving forward with an evaluation of an 11-story, 412-unit apartment complex proposed for 400 Logue Ave., within the city's East Whisman area.
The project, proposed by property owner Miramar Capital, is within the area that would be covered by the East Whisman Precise Plan, a document that the city expects to complete early next year. Under the preferred alternative for the plan, an eight-story building would be allowed at the site.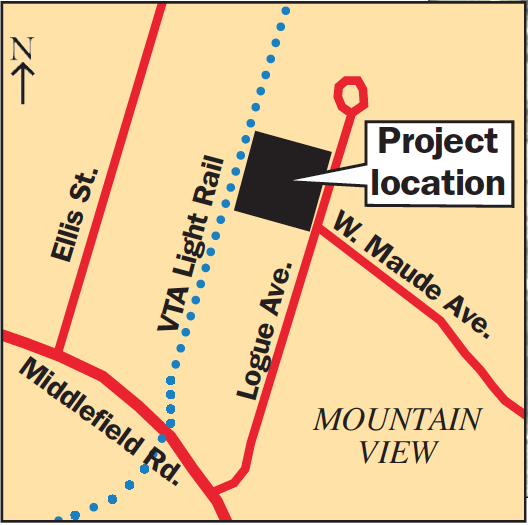 But Miramar expects to receive an additional 72,000 square feet of development rights as part of a deal with the Los Altos School District. Incorporating the extra square feet would make the housing project taller and denser. The City Council voted 3-2 last week to authorize city planners to work with Miramar on the project application.
Perry Hariri, a managing partner at Miramar Capital, told the council the location is ideal for a dense housing development, with a VTA light rail station less than a block away.
This would be a nice critical mass and a catalyst for making this a vibrant residential area," Hariri said.
A shorter 11 stories
Plans for an 11-story building are preliminary, Hariri said, but that height would allow the developer to break up the mass of the complex with a seven-story height in some sections. Residential stories aren't as tall as commercial stories, he said, so 11 stories is about the same height as a seven-story commercial building. At the building's tallest point, the height would be about 120 feet, similar to the nearby Samsung building.
Sixty-two units, or 15% of the total, would be for low or moderate-income residents.
Some council members were uneasy with the number of unknowns related to the project. In addition to the East Whisman Specific Plan not yet being approved, it's not known whether the school district will succeed in buying the property that would result in development rights for sale. The city has not yet finalized an agreement with the school district regarding the transfer of development rights.
Neighborhood push back
Councilwoman Lisa Matichek, who voted against moving forward on Miramar's application, said residents who attended a recent neighborhood meeting on the East Whisman Precise Plan were worried about new development in the area, particularly traffic impacts.
"There was a lot of pushback on it," Matichek said. "And I think folks who live in that part of town are very concerned."
Councilman John McAlister, who also voted in opposition, said he'd like to see policies for traffic and open space in place before moving forward.
"We're not moving forward to alleviate the burden on our residents," McAlister said. "Here in East Whisman, I'd like to see us be more proactive, to have the mitigation in place."
Unknowns
Council members who voted in favor — Patricia Showalter, Ken Rosenburg and Mayor Lenny Siegel — didn't mind proceeding despite the unknowns. Showalter noted that the developer will have to comply with requirements of the specific plan, such as traffic mitigation measures.
The East Whisman Precise Plan would allow the 124-acre East Whisman area, which now contains many one- or two-story commercial buildings, to be developed with higher intensity office buildings and housing. The 2.55-acre site at 400 Logue Ave. is now home to a 42,200-square foot, single-story office building.
If the Los Altos School District's deal materializes, the East Whisman area could end up being denser than what's now being envisioned. Miramar is only one potential recipient of the development rights the district might be selling.
Nearby development projects
As of January, Sand Hill Property was planning to buy 73,000 square feet for use on two office projects within the East Whisman area. Both would be denser than what's proposed in the precise plan preferred alternative; one project, a six-story building on Ravendale Drive, would be taller than what's envisioned.
The Sobrato Organization wants to bring an additional 80,000 square feet of development rights from the school district deal into East Whisman. Another developer, Nootbar, wants to buy 125,000 square feet of development rights from the school district and use it for offices in the East Whisman area.
SummerHill Homes would use 10,000 square feet of purchased development rights as part of a housing project on Middlefield Road. In January, SummerHill was proposing a 250-unit project for the six-acre site. Last month, SummerHill told the council it wanted to expand the project to 447 units in four seven-story buildings. The precise plan preferred alternative would set a height limit at the site of five to six stories.