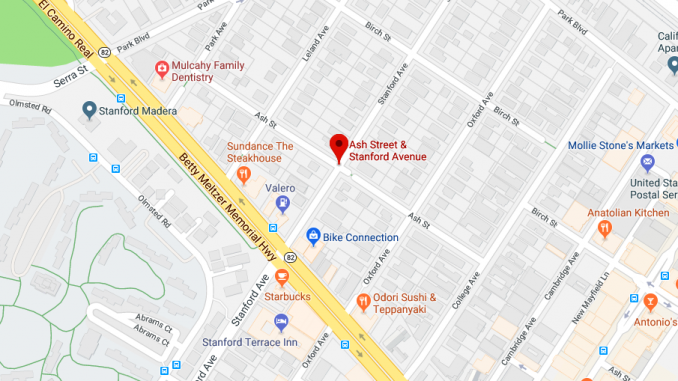 By the Daily Post staff
Update, 5 a.m. — Sunnyvale's Department of Public Safety said via twitter the second suspect in the chase has been captured. Officers are trying to determine if any shots were fired in the first place. No additional details were released.
1 a.m. — Palo Alto police at this hour are searching for a driver who led officers on a high-speed chase from Sunnyvale, through Mountain View and into Palo Alto at speeds of up to 100 mph.
Sunnyvale police were chasing the car because they believed it was involved in a non-injury shooting, according to police radio reports.
The chase ended at about 12:30 a.m. today (Feb. 26) near the intersection of Ash Street and Stanford Avenue, behind Sundance The Steakhouse, in Palo Alto's Evergreen Park neighborhood.
The driver's Honda Hatchback stopped and both occupants jumped out and started running. Police quickly detained one of the people in the car, a woman. But as of 1 a.m., the man was still at large.
Police say he is approximately 25 years old, Hispanic, 5-foot-11 and 180 pounds. He was wearing a grey hoodie with a red shirt and black pants. Police were searching the neighborhood for him.
Minutes earlier, the Honda Hatchback came roaring into Palo Alto on Alma Street, heading north. At 12:29 a.m., one Palo Alto officer at Oregon Expressway and Alma said over the radio that the car flew by him at 100 mph.
At some point, the car turned around and got onto El Camino, going south. Officers noted that a lot of smoke was coming from the car and speculated over the police radio that the vehicle might soon be seizing up from the high speeds. It wasn't more than a minute or two later when the car stopped near Ash and Stanford.
Details about what happened in Sunnyvale weren't immediately available.