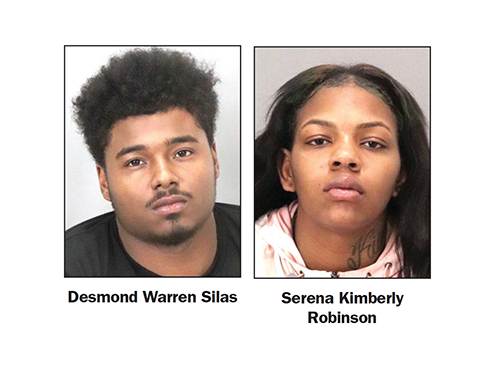 By the Daily Post staff
Palo Alto police have arrested a couple who allegedly drove around downtown looking for cars to break into while two children, ages 2 and 3, sat in the back of their car with a loaded handgun.
Because of the frequent car burglaries in downtown Palo Alto, police were watching the city parking lots and garages when they spotted a car making loops through the 450 Lytton Ave. lot on Thursday.
Officers watched the car park and saw a guy get out. They watched as he broke the window of a red Toyota Rav 4 and pulled out a bag from the vehicle, police said.
Officers identified themselves and told the guy to stop, but he ran toward the getaway vehicle that had the two kids inside, police said.
But the vehicle took off before he was able to get in. Then he surrendered and police arrested him without further incident.
Police responding to the incident stopped the getaway car near the 450 Lytton parking lot and took the woman driver into custody.
Police found her two children in the rear seats, not secured by child seats, police said.
"Near the children, they located a loaded semiautomatic pistol, which was reported as a lost firearm out of Milpitas," Palo Alto police said in a statement.
Police also found a flashlight, a window punch (an instrument used to break open windows), an industrial retail security magnet remover and stolen property from two auto burglaries earlier this month in Palo Alto, according to police.
Desmond Warren Silas, 20, and Serena Kimberly Robinson, 22, both of San Jose, were arrested by police and taken to jail.
Santa Clara County Department of Family and Children Services took the children and released them to a responsible relative, police said.
Police said that the two suspects had committed auto burglaries in the same parking lot on Nov. 12 and Nov. 20. In both cases, police said the suspects broke windows and stole items including electronics and credit cards. Police said the credit cards were used to make fraudulent purchases at various businesses.
Police are investigating whether the pair are responsible for other car burglaries.
Silas and Robinson were both booked into jail for auto burglary and child endangerment, which are both felonies, and resisting arrest, possession of burglary tools and possession of stolen property, all misdemeanors. Silas also faces a felony charge for possession of a gun that isn't registered to him. Robinson faces additional felony charges of conspiracy to commit an auto burglary and identity theft.
Robinson is on probation in San Mateo County for grand theft. Police said they searched her home in San Jose and found a high-capacity gun magazine, which is illegal to possess.