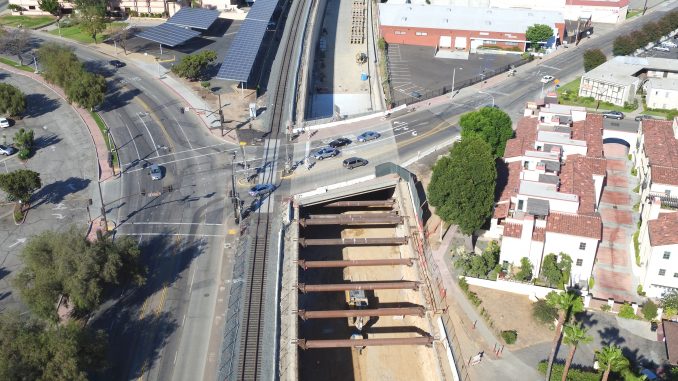 BY ALLISON LEVITSKY
Daily Post Staff Writer
Digging a trench or boring a tunnel for the Caltrain and high-speed rail tracks in Palo Alto would cost billions and would be infeasible politically and financially, according to a new study from engineering consultants hired by the city.
It would cost between $2.8 billion and $4.8 billion, according to City Manager Jim Keene. The price tag goes well beyond what was found to be attainable from the available funding sources in a study released in November.
And the cost doesn't include the funds needed to rebuild the University Avenue, Embarcadero Road and Oregon Expressway under-crossings after building a trench or tunnel.
Because the railroad tracks will be electrified in 2022, making it possible for high-speed rail to operate starting in 2029 and for Caltrain to send many more trains down the Peninsula, cities with streets that intersect with the tracks need to find a way to separate the roads.
Options include putting streets over or under the tracks or digging a trench or boring a tunnel.
One option could be to trench under only the Meadow Drive and Charleston Road crossings, or just the Charleston Road crossing. Trenching or tunneling in south Palo Alto would be easier than on the north side of the city, the London-based consulting firm Mott MacDonald found.
San Francisquito Creek separates Palo Alto's northern boundary from Menlo Park, and its depth of 27 feet would mean the tracks would have to be more than 32 feet below the creek, or almost 60 feet underground.
It would take more than a half-mile for the tracks to ramp back up to ground-level in Menlo Park, even assuming a slope of 2%, which would require Caltrain's approval.
The California Public Utilities Commission, Union Pacific Railroad, Santa Clara County Roads and Airports Department and the Santa Clara Valley Water District would also have to sign off on the plans, a process which could drag on for years.
Menlo Park residents would be affected by the excavation and construction staging area. Putting temporary tracks along Alma Street would also affect traffic.
Rebuilding stations
Building a tunnel or trench through north Palo Alto would also require rebuilding both existing stations underground with new access points via stairs and elevators.
Creek depths are less in south Palo Alto and a trench or tunnel traveling under Charleston Avenue would have a long enough distance to climb back up to ground-level before crossing the Mountain View border.
Other options would be less pricey.
Lowering Alma Street to meet Churchill Avenue, Meadow Drive and Charleston Road would cost $221 million.
In a study in November, Mott MacDonald found that a general obligation bond funded by a property tax increase would be the best funding opportunity. It would require two-thirds voter approval, but could bring in between $143 million and $713 million for a property tax increase of between 0.05% and 0.25%.
Other funding
Other funding sources would likely include Measure B, a 30-year sales tax passed by Santa Clara County voters to fund transportation projects in 2016, which could bring in between $350 million and $395.5 million.
A 10-year parcel tax of $50 to $100 could pull in between $22.5 million and $45 million. A decade-long sales tax increase of between 0.1% and 0.25% could bring in between $23.7 million and $59.3 million, while a 10-year hotel tax hike of between 1% and 3% could bring in between $16 million and $47.9 million.
The California High Speed Rail Authority and other state and federal funding could also help, but the competitive nature of these sources makes the amount and timing of the funds difficult to predict.
The city Rail Committee is set to discuss the study on Wednesday.
A community roundtable is planned for the Palo Alto Art Center Auditorium, located at 1313 Newell Road, for March 6 at 6:30 p.m.