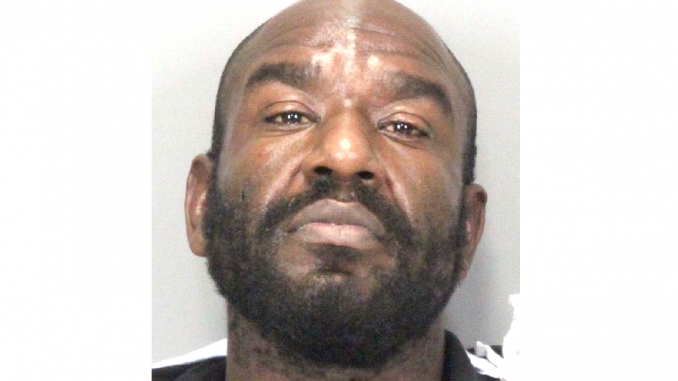 By the Daily Post staff
Palo Alto police have arrested a man accused of groping a Macy's employee in the butt, robbing P.F. Chang's at the Stanford Shopping Center, spitting on a paramedic and head-butting a nurse.
Arrested was Javas Debois Minor, 41, of Redwood City. He's being held in the Santa Clara County Jail in San Jose in lieu of $200,000 bail.
It started at 7:11 p.m. Monday (Jan. 29) when Macy's at Stanford Shopping Center reported that a man groped the buttocks of a female store employee in her 30s, and when a loss prevention officer went to ask him to leave, he punched him in the jaw and fled, police said.
The loss prevention officer, a man in his 30s, sustained a laceration to his tongue from the punch, but did not require medical treatment.
The man moved on to P.F. Chang's, where he entered the prep area of the kitchen, claimed he had a gun and started taking food from the takeout counter, police said.
He threw a plate of food at one employee and threatened to kill him and another employee several times, police said. He also held his fist up menacingly in the face of a female employee in her 20s and threatened her as well, according to police. No employees ever actually saw a gun. They said he fled before police arrived.
Minor moved on to the transit depot at 95 University Ave., where he was arrested.
No gun was found and he told police he simply lied to P.F. Chang's employees about having one.
As officers were moving him to a patrol car, he attempted to kick one of them but missed, police said.
They took him to the police station, and then he claimed he could no longer feel his feet due to a medical condition, according to police.
Paramedics were called and when they arrived, Minor spit in the face of one of them who was trying to evaluate him, police said.
Police said they took him to a hospital to obtain a medical clearance before putting him in jail, and once there, he attempted to bite a nurse who was treating him and then head-butted the same nurse. The nurse sustained minor injuries to his nose and forehead, and was treated at the hospital.
Minor was booked into jail for robbery (a felony), three counts of criminal threats (all felonies), resisting arrest (a misdemeanor), and four counts of assault and/or battery (all misdemeanors). The victim of the sexual battery at Macy's did not desire to press charges against him.