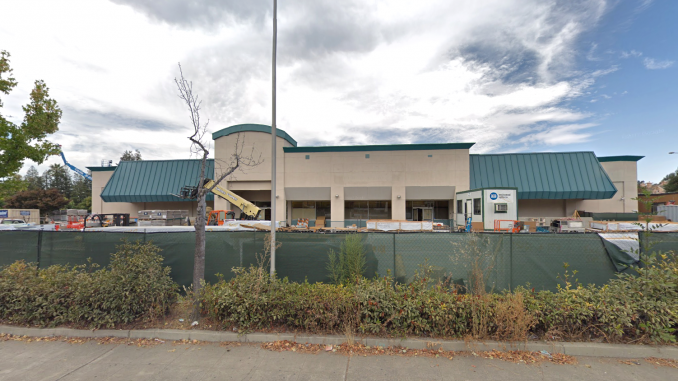 BY ALLISON LEVITSKY
Daily Post Staff Writer
The Los Altos School District's plans to buy a new school site in Mountain View — possibly through eminent domain from unwilling owners — is being called into question by parents who say the district doesn't need the space.
"It's like a train wreck in slow motion. They have $150 million and they really don't need more land," Los Altos resident and district parent Nancy Bremeau told the Post.
School board President Vladimir Ivanovic said the district is focusing 95% of its efforts on buying the new site, referred to as the Old Mill/Safeway site, which cobbles together three parcels at 201 San Antonio Circle, 225 San Antonio Road and 2580 California St.
Six of the district's elementary schools are on 10-acre sites. Covington Elementary School, located at 201 Covington Road, is on a 16-acre site and is the only elementary school in the district with an athletic track.
Bremeau said there's plenty of room at the Covington site for a second school, but claimed Covington is treated as the "crown jewel of the district" and has been given special protection for years.
Some district parents have proposed placing at the Covington site Bullis Charter School, a subject of bitter contention in the district since Bullis Elementary closed in Los Altos Hills in 2003. Bullis is currently housed in portables at Blach and Egan junior high schools.
But currently the district is considering a plan to place Bullis at the new school site, located at the corner of San Antonio Road and California Street.
Ivanovic said the district could place Bullis or a new neighborhood school at the new site.
Bremeau said a move like that would defeat the purpose of buying land north of El Camino. Hundreds of new apartments are expected to sprout up there, so it is about to see a dramatic population boom and needs a small, neighborhood school, Bremeau said.
As a charter school, Bullis draws students from all over the district and is best suited to Covington, which is located in the middle of the district Bremeau said.
But Ivanovic said Covington couldn't accommodate Bullis Charter School because with 1,400 students on one site, traffi c would be a problem. Covington parents have historically been "very well-organized" and vocal about their interests, so the worsened traffic also wouldn't fly politically, he said.
If the Old Mill/Safeway site falls through, the district will look into the Kohl's site at 350 Showers Drive, but it's only 4.68 acres, so the district would have to buy adjacent land to get up to at least 6 acres.
Ivanovic said he thought it was unlikely that the district would buy the Walmart site at 600 Showers Drive because the store has a long-term lease.
"The only possible expansion I know of is to take some of Walmart's parking lot. Unlikely, in my opinion," Ivanovic said.