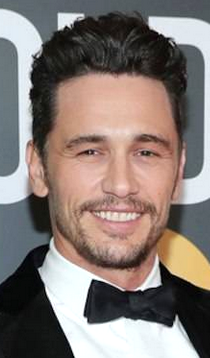 Palo Alto native James Franco won the Golden Globe Sunday night for best actor in a comedy or musical for his performance as the infamous "The Room" filmmaker Tommy Wiseau. Franco dragged his co-star and brother, Dave, to the stage and called up Wiseau.
When Wiseau, wearing his trademark sunglasses, got to the stage, he moved for the microphone before Franco turned him back. "Whoa, whoa, whoa," said Franco as the audience chuckled.
Franco has stayed in touch with his Palo Alto roots as he has moved up in Hollywood. In 2015, he taught an eight-part class at his alma mater, Palo Alto High School, led by Paly teacher Esther Wojcicki.
"It's really nice to see someone in the Hollywood tradition come back and make a difference on the schools," said Wojcicki in 2015. She who taught Franco when he was a Paly student.
She said Franco was driven to teach the class because of his experiences in journalism class at Paly. He knew his work would be printed in The Campanile newspaper and read by hundreds. He talks about that experience in his foreword to Wojcicki's book, "Moonshots in Education: Launching Blended Learning in the Classroom." Similar to how the student newspaper works, Wojcicki said the class will be taught using a technique called mastery-based learning, meaning if a student doesn't get it right, they are evaluated and given feedback and told to try again.