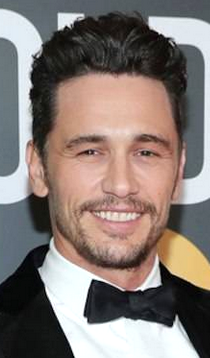 Actor James Franco is reportedly "hiding out" after five women accused the Palo Alto High graduate of sexual misconduct, according to media reports.
The prolific 39-year-old film star was a no-show for the Critics' Choice Awards Thursday (Jan. 11) in Southern California, where he won the award for best actor in "The Disaster Artist," a film he also directed.
"He's in a really bad place, so bad that he changed his phone number," a source told People. "His close friends are trying to be there for him but it's been hard — he's only talking to a select group
of people. For now, he's just hiding out."
The claims started Sunday (Jan. 7), when Franco won the best actor Golden Globe. "Breakfast Club" actress Ally Sheedy, 55, alluded to misconduct by him in tweets while actress Violet Paley,
who said she had a consensual relationship with Franco, claimed he tried to force her to perform an intimate act on him.
Two former student actresses have described disturbing on-set experiences with the actor-filmmaker while being directed by him. Sarah Tither-Kaplan said in a nude orgy scene three years ago, he removed plastic guards covering the actresses' private parts while simulating sex.
Former students spoke of an unprofessional culture at Franco's now-closed acting school Studio 4, where he taught a sex-scenes class. Two women say Franco became angry shooting a strip club scene when no actresses, who were masked, would go topless. She says one topless scene filmed during class with Tither-Kaplan was posted online.
Franco's attorney, Michael Plonsker, disputed the allegations to the Los Angeles Times.
In 2014, Instagram messages showed Franco apparently trying to hit on a 17-year-old Scottish fan. Afterward Franco said he was "embarrassed" and said social media is "tricky." "I used bad judgment and I learned my lesson," the actor said then.
The revelations have overshadowed the career of a celebrity with close ties to Palo Alto. In addition to being a Paly grad, Franco appeared in the film "Palo Alto." He also helped write the screenplay from his book of the same name. And he taught an acting class at Palo Alto High School in 2015.