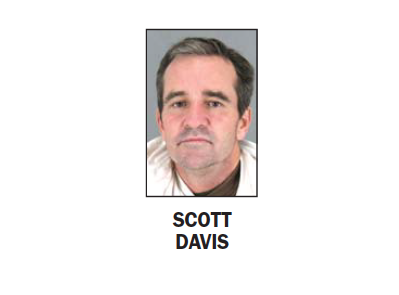 By the Daily Post staff and Bay News Service
A man suspected of stealing prescription narcotics at gunpoint at a Menlo Park pharmacy returned two days later for another heist but was nabbed by police, authorities said.
Scott Davis, 50, of Menlo Park, was arrested Saturday on suspicion of armed robbery, attempted robbery, possession of a firearm, possession of narcotics and resisting arrest and booked into the San Mateo County Jail, according to police.
On Saturday morning at around 10 a man allegedly demanded Alprazolam pills, a controlled substance, from an employee at CVS Pharmacy at 700 El Camino Real, according to police.
The alert employee recognized the suspect as resembling a man who robbed the same store Thursday, police said.
The employee called 911 and tried to stall the man, but he became impatient and lifted his shirt, displaying a handgun, according to police.
Seeing the weapon, the employee gave him the medication and the man fled northbound through the parking lot toward Ravenswood Avenue, police said.
Officers arrived in less than a minute and found a man resembling the description of the suspect leaving on a bicycle. The officer ordered the man to stop, but he tried to flee, police said.
Officers were able to stop him on Ravenswood at the Caltrain tracks, and when they searched him, they allegedly found a loaded firearm, a mask and the stolen prescription narcotics, according to police.
An investigation revealed that Davis was allegedly also behind two earlier drugstore robberies, police said.
Anyone with information is asked to call Menlo Park police at (650) 330-6300 or the anonymous tipline at (650) 330-6395.