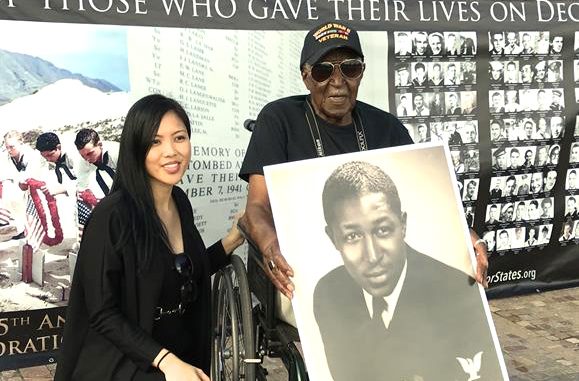 Above, Karl Clark and Enna Anulau at the National Memorial Cemetery of the Pacific in Honolulu in December 2016. Photo from the website of the group Spirit of 45.
BY EMILY MIBACH
Daily Post Staff Writer
Menlo Park officials have proposed renaming a park after a local World War II hero who wasn't recognized for his actions for 60 years because of his race.
Karl Clark, who died at age 100 this year, was a long time resident of the Belle Haven neighborhood before his death and helped start the Boys and Girls Club in Menlo Park.
On Tuesday, the council will vote on whether to rename the Market Place Park at 313 Market Place, across the street from the Boys and Girls clubs of the Peninsula at 401 Pierce Road in his honor.
Clark also received a medal of honor six decades after his heroic actions during World War II. Clark said in 2011 that racial bias was why he was not recognized for his actions.
'Flying bombs'
Clark was serving as a Steward First Class aboard the USS Aaron Ward when Japanese kamikazes attacked the destroyer near Okinawa in May 1945.
"They would guide those planes directly into the ships," Clark said of the planes he described as "flying bombs" during a 2011 interview with the Associated Press.
Six kamikazes hit the destroyer, with the blast from one plane so powerful that it blew him all the way across the ship. Though he suffered a broken collarbone in the attack, Clark was credited with saving the lives of several men by dragging them to safety. He also put out a fire in an ammunition locker that would have cracked the vessel in half.
Clark received the Medal of Honor for his actions on Jan. 17, 2012 at Moffett Field in Mountain View.
Exception to the rule
Menlo Park's typical policy for naming things after people is that the honoree must have been dead for five years, but the Parks and Recreation Commission unanimously voted that the council change the park's name at an Oct. 25 meeting.
At that meeting, the commission received a petition in favor of the renaming with 115 signatures from residents Julie Shanson and Cecilia Taylor, who had initiated the park renaming push. The commission also received a letter from Congresswoman Anna Eshoo in support of the park being renamed in Clark's honor.
"I was privileged to secure the honors due to Mr. Clark for his heroic service in World War II, honors he was deprived of for decades because of his race," Eshoo's letter says. "I know Mr. Clark was a devoted public servant, a man committed to his community, making it stronger and our country better."
Council will vote on the renaming at its 7 p.m. Tuesday meeting at 701 Laurel Street.
Editor's note: Clark's first name is Karl, but the military misspelled his name as Carl when he enlisted and error followed him throughout his life, as the photo above attests.