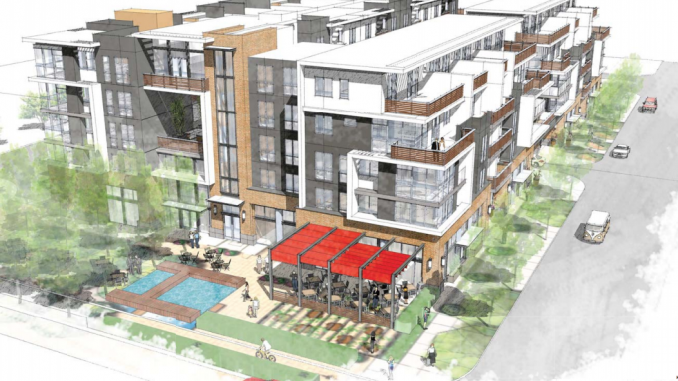 Above is an illustration, provided by Stanford, showing its El Camino Real project.
BY EMILY MIBACH
Daily Post Staff Writer
After nearly eight years of planning, proposals and negotiations, Stanford's huge 8.4-acre residential, retail and office project at 500 El Camino Real was unanimously approved by Menlo Park City Council Sept. 26.
The project, called Middle Plaza, consists of 215 apartments, 10,000 square feet of retail and 144,000 square feet of office space.
The project will add 2,658 cars a day on El Camino, Middlefield Road and other large arteries.
It spans from The Stanford Park Hotel to Big Five, across El Camino from Safeway.
Also last night, the council approved another Stanford project, a 40,000-square-foot office building at 2131 Sand Hill Road that had drawn complaints from residents about traffic noise. More about that toward the end of this story.
Stanford's El Camino project was approved despite objections from residents about the traffic it would create, environmental issues and the university's funding for the Menlo Park City School District and a proposed Caltrain bike and pedestrian crossing behind the development.
The council spent nearly two hours questioning Stanford officials about the project and the concerns raised by residents. The project was approved just after 11:30 p.m.
"I know it's late but heck it's a huge project," Mayor Kirsten Keith said when the council was near the end of its cross-examination of Stanford's Steve Elliott, Jean McCown and John Donahoe.
One of the main issues concerned Stanford's funding of the railroad crossing and its donation to the school district.
Because residential units used by faculty are exempt from property taxes, some felt Stanford ought to make up for the school district's income loss.
According to a letter from Menlo Park City School District Superintendent Erik Burmeister, the new project would add 39 students to the elementary district, costing the schools about $660,000 a year. Only some of that hole would be filled by property taxes from the non-exempt portion of the development.
Stanford was originally going to give the schools $100,000 a year for 10 years, but two weeks ago, Stanford changed the offer to a lump sum payment of $1.5 million, which would be used to create an endowment.
Stanford earlier had also promised to give $5 million to build the railroad crossing, with the assumption that the city or grants from other government agencies would pay the rest of the cost, which Stanford estimates will cost $10 million.
Last night, Stanford offered to reduce the amount it would contribute to the crossing to $4 million and take $1 million and put it into school endowment.
Councilman Rich Cline said it seemed like Stanford was pitting the crossing against the schools. Cline and Keith were against the switch.
However, both council members Ray Mueller and Catherine Carlton favored the taking of the $1 million from the rail crossing and giving it to the school district. Councilman Peter Ohtaki didn't comment on the idea.
Council indicated it will meet again to discuss moving the money from the crossing to the school district.
The other Stanford project before council — at 2131 Sand Hill Road, was approved 4-1 with Mueller dissenting.
At an Aug. 29 meeting, Stanford's Elliott was angered by complaints from residents across Sand Hill Road from the project in the Sharon Oaks neighborhood. They had been asking Stanford to rebuild a sound wall to insulate them from traffic on the road, which they say has increased because of various Stanford developments in the area, such as expansions of Stanford Hospital and Stanford Shopping Center.
"This is an opportunistic recognition that Stanford has deep pockets, and probably wouldn't care … it wouldn't be any skin off of Stanford's teeth to help pay for that and it's purely a money grab and we're not going to do it," said Elliott. "And that's how I feel about it."
Councilwoman Carlton told Elliott, "by reading your body language and tone, you're feeling emotional and angry."
"… It would be great if as a peace offering Stanford will work with residents to help with the wall," Carlton said.
However, a letter from Elliott to council indicated the university would not be paying for the sound wall.