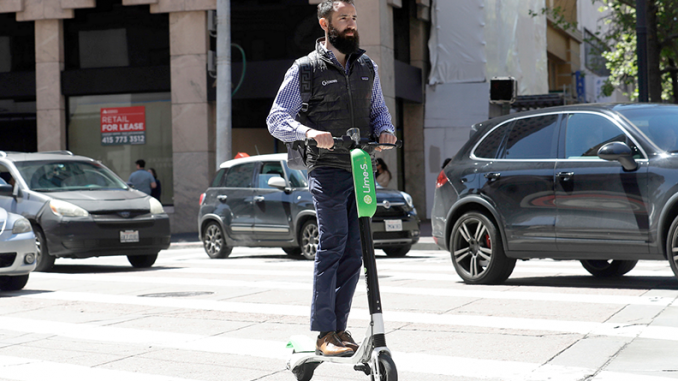 BY SARA TABIN
Daily Post Staff Writer
Electric scooters are headed to Mountain View but will likely face new rules — like no riding on sidewalks and no riding by anyone 18 and under.
City Council on Tuesday (Oct. 29) indicated it would support a pilot program for the electric-powered scooters that have created a problem in other cities when users dump them on sidewalks or doorsteps when they've finished riding them.
Mountain View passed a temporary ban on electric scooters in June to give the city more time to put together regulations on their use.
City transportation manager Nate Baird presented to the council at a study session about the plan that has been developed for scooters since the ban.
Among the rules:
the minimum age to use a scooter should be 18;
the city should ban their use on sidewalks;
and they can only be dumped off in designated places, such as parks.
The council did not take formal action since it was a study session, but all the council members said they support the program.
Baird said e-scooter companies might have to educate scooter users about safety with videos or even in-person training.
Injuries
Valerie Fenwick, a resident who is on the Bicycle and Pedestrian Advisory Committee but was not representing the committee, told council she thought the scooters are unsafe. Fenwick said she suffered severe brain injuries from an auto accident. She said she worries that other people will get traumatic brain injuries from riding e-scooters because their small wheels make them unstable. She also said she is concerned that by allowing people to dump the scooters in city parks, the city is endorsing their use.
Representatives from e-scooter companies came to the meeting to pitch council on their devices.
Sam Kang of Lime, who opened by offering Mayor Lisa Matichak a cough drop, objected to the designated parking spots since he said people will be less likely to use scooters if they have to walk farther. He also said he thinks the city should get fees per trip rather than a flat fee for each scooter.
Marty Fatooh, of Bird Rides, started his speech by congratulating City Manager Dan Rich on his retirement. Fatooh said he also thinks scooters should be allowed to park in more locations so people can ride out the last mile of their trips.
Where to leave the e-scooters?
Councilman Lucas Ramirez agreed that allowing people to leave the scooters on city land might make them less accessible to people living in less dense areas. He suggested that the city partner with businesses or apartment complexes for scooter parking, possibly as part of the city's Transportation Demand Management program, which requires companies to offset traffic and parking.
The city will only let two companies operate, and will not let the total number of scooters in the city exceed 800, Baird said.
Baird said the city expects to take applications from e-scooter companies next spring. The city hasn't determined how much the companies will pay, but it's possible they may have to pay a fee for each e-scooter as well as an overall fee to operate in Mountain View.
A date wasn't set for when the proposal would return to council for approval. Tuesday's meeting was a study session where no final decisions are mde.
Coordination with Palo Alto
Mountain View hopes to work with Palo Alto on permit requirements so that people can ride scooters between the two cities, according to a memo created for the scooter study session.
Palo Alto is currently working on developing its own set of guidelines for e-scooters, according to city Transportation Manager Philip Kamhi.