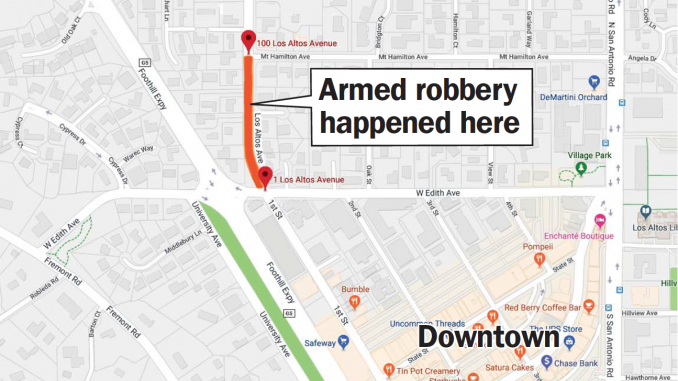 BY ALLISON LEVITSKY
Daily Post Staff Writer
A person walking home near downtown Los Altos was robbed at gunpoint by two people in a car, police said today (Feb. 25).
The robbery was reported around 11:54 a.m. Friday (Feb. 22) on the 1-99 block of Los Altos Avenue, between W. Edith and Mt. Hamilton avenues.
Police Sgt. Cameron Shearer said the car pulled up and two people got out with a gun and took the person's wallet with an undisclosed amount of cash inside.
It looked as though there may have been one or two more people in the vehicle, Shearer said.
The car then headed south on Los Altos Avenue toward downtown.
Shearer on Monday didn't have access to the full incident report and was unable to provide any information about the robbers, the car or the victim.
UPDATE, 6 p.m. Tuesday — Los Altos police said today that the victim is in his 80s. A dark car was involved, but police don't know if that was the vehicle carrying the two suspects. The victim said he only saw one gun. He also said that both suspects were men.