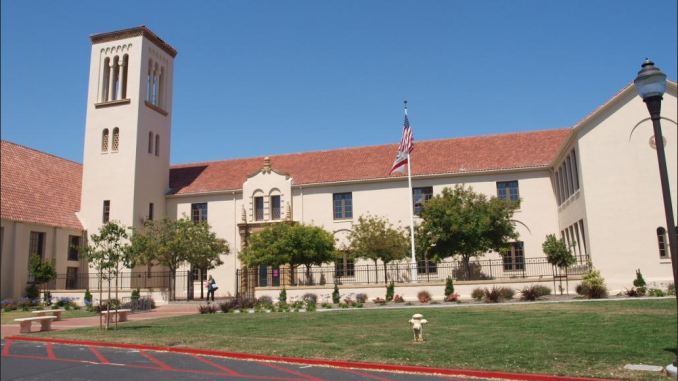 BY ALLISON LEVITSKY
Daily Post Staff Writer
The Palo Alto school district has settled with a former Palo Alto High School student for allegedly mishandling her complaint that a classmate sexually assaulted her on a bench on the quad in November 2015.
The board approved the $190,000 settlement unanimously in a closed-door meeting on Tuesday (Jan. 15) night.
When the Post asked yesterday for a copy of the girl's claim that was settled, General Counsel Komey Vishakan said that the student never filed a written claim.
Vishakan said she could not explain what the board was settling if there was no written liability claim, which lays the groundwork for a lawsuit.
The student's father declined to comment on the settlement.
Former school board candidate Kathy Jordan said the victim's family had told her that the agreement had "been in the works for awhile." Jordan said the girl's family told her that Paly Principal Adam Paulson and then-Assistant Principal Vicki Kim bore responsibility for the mishandled investigation.
Kim left the district last year to become a middle school principal in San Diego.
Paulson and Kim had each been designated as a "point person" on the girl's complaint by then-Paly Principal Kim Diorio, Jordan said she was told.
Diorio stepped down last year.
Attorneys from the law firm Cozen O'Connor, which the district hired to review its response to the November 2015 sex assault, found last year that administrators responded to the incident promptly and took "some" steps to investigate.
But that investigation was ultimately inadequate under the law, the attorneys found.
According to their report, administrators reported the incident to police and provided "adequate" interim measures while the investigation was pending.
The administrator who at the time coordinated the district's response to complaints under Title IX, the law that seeks to protect students at federally funded schools from gender discrimination, sexual harassment and sexual assault, was Holly Wade. Wade, who has since left the district and been hired as an assistant superintendent in Half Moon Bay, did not properly coordinate the investigation, Cozen attorneys said.
The district has since hired a new Title IX coordinator, Megan Farrell.
Under Tuesday's settlement agreement, the board agreed that district representatives would meet with the girl to "discuss the district's conduct and steps taken to improve similar processes going forward."
That meeting was to include Farrell and board Vice President Todd Collins, the settlement agreement states. Board President Jennifer DiBrienza said on Tuesday night that that meeting had taken place. The settlement agreement states that the district denies the girl's claim that it failed to comply with Title IX requirements, but would pay the girl $190,000 to avoid an expensive lawsuit.