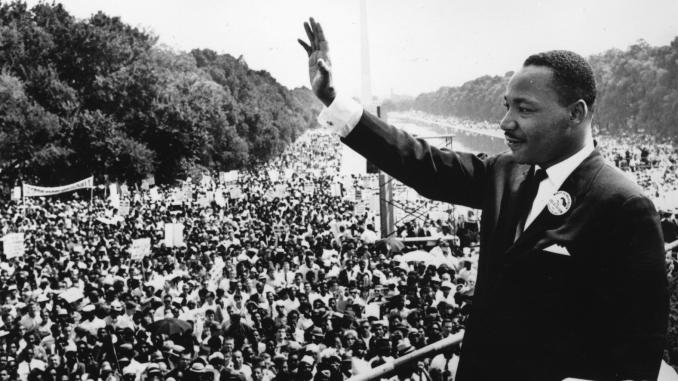 By the Daily Post staff
A number of events are planned locally for Martin Luther King Jr. Day (Jan. 21), which this year commemorates what would have been the civil rights leader's 90th birthday on Jan. 15, 1929.
• At 8:30 a.m. on Monday, the San Mateo County Dr. Martin Luther King Jr. Day Celebration will take place at the San Mateo Caltrain station and feature a continental breakfast, art projects for children, songs and speeches to commemorate King's legacy.
• At 9 a.m. Monday in East Palo Alto, the tree advocacy nonprofit Canopy, Grassroots Ecology and the San Franciscquito Creek Joint Powers Authority will gather volunteers to plant trees and plants at its fourth annual MLK Day of Service and EPA Mayor's Tree Planting at 435 Daisy Lane.
• At 9 a.m. Monday the Oshman Family Jewish Community Center will celebrate Mitzvah Day, its 12th annual Martin Luther King Jr. Day of Service. People of all ages will take part in hands-on service projects addressing poverty, hunger, homelessness, aging and the environment.
• At 10 a.m. the Palo Alto Vineyard Church, Palo Alto First Christian Church and University AME Zion Church will hold a prayer walk for MLK Day, hosted at the Crossroads Community Church at 2490 Middlefield Road.
• At 10 a.m. Monday the city of Palo Alto and Youth Community Service will gather at Mitchell Park Community Center for an event featuring guest speakers, activities for kids and teenagers, music and dance performances and an exhibition on the civil rights movement.
The Caltrain NorCalMLK Celebration Train will provide free service for those attending the annual celebration of King's life and legacy in San Francisco hosted by the Northern California Dr. Martin Luther King Jr. Community Foundation.
The train will provide free, ticketed service from San Jose to San Francisco, with three stops: in San Jose at 9:45 a.m., in Palo Alto at 10:05 a.m. and in San Mateo at 10:25 a.m.
Attendees have to register for a ticket in advance at bit.ly/2sCA5mU. The commemorative ticket will be valid for the Celebration Train and one southbound Caltrain trip after 1 p.m. Monday.