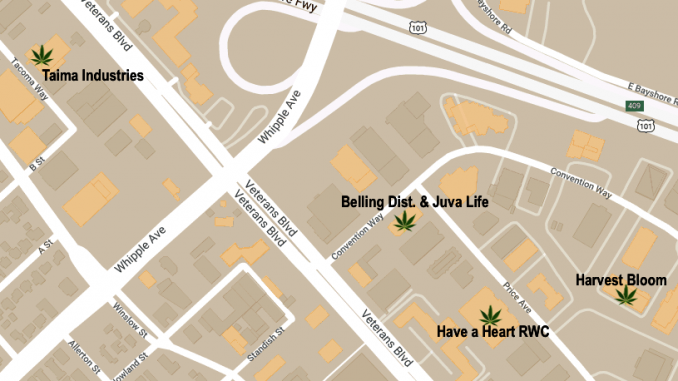 BY EMILY MIBACH
Daily Post Staff Writer
Redwood City officials, who originally refused to release the applications of companies that wanted to open marijuana-related businesses, yesterday backtracked and gave the Daily Post information on the six applicants.
All six want to set up distribution hubs. The city isn't allowing marijuana stores, at least not yet.
Four of the six businesses want to open east of Veterans Boulevard, along Convention Way, near the DMV and the Redwood City CHP post. The businesses must be 600 feet away from schools, libraries, day care centers, parks or youth centers, hence their concentration in that area.
A group of city employees will decide who gets a permit by March 1.
The application process opened in June and closed on Dec. 3.
In December, city spokeswoman Meghan Horrigan told the Post that she couldn't give information about the businesses until they had been approved for a permit. That would set up a situation where the neighbors of these businesses would find out they had a marijuana business next door only after the city had granted a permit, denying them a chance to protest the permit application.
In contrast, the state Department of Alcohol Beverage Control discloses information about liquor license applicants before they are granted a permit so neighbors can file objections.
On Thursday (Jan. 17), the city had a change of heart and released the applications.
What the applications show is a range of business owners, from a Redwood City couple to a Seattle-based marijuana company, that are looking to put down roots in Redwood City, one of the few cities on the mid-Peninsula that allows for marijuana-related businesses within city limits.
Redwood City and San Carlos are the only two cities that are allowing certain marijuana businesses to open. Mountain View is the only mid-Peninsula city that will allow pot shops.
These delivery business would be able to deliver cannabis to other cities as well as Redwood City.
Those applying for licenses are:
• Belling Distribution Inc., which intends to open at 465 Convention Way, Suite 3. It's owned by Doug Chloupek, who has marijuana businesses from Stockton to San Jose, according to his LinkedIn page. He is a founding member of the California Cannabis Industry Association in 2011, and works as a lobbyist of sorts on the local and state level to increase the cannabis industry's presence in local market.
• Chloupek is also proposing to open up Juva Life Inc., also at 465 Convention Way, Suite 1. It was not clear in the paperwork how the two delivery centers would be different from one another.
• Taima Industries Inc. wants to open a distribution center at 1520 Tacoma Way. Its owner is David Benett, a Mountain View resident and attorney.
• Northern Erudite Ventures is seeking a license for 3600 Haven Ave., not too far from Marsh Road. Its owners are Luke Bruner, a San Francisco resident, Jeff Linden, a Stockton resident, and Rajan Dave, a San Mateo resident.
• Have a Heart RWC is proposed for 604 Price Ave. and is owned by Seattle resident Joshua Udovich. Have a Heart has a handful of locations in Washington state, Oregon, Hawaii, Iowa and Ohio, according to its website. Some locations are pot shops while others are distribution centers.
• Harvest Bloom is owned by Redwood City residents Alec Gillis and Sommer Gillis, who have spoken at Redwood City council and planning commission meetings in favor of the marijuana regulations in the past. Harvest Bloom previously operated as a medical marijuana company and is now expanding into the recreational marijuana business.