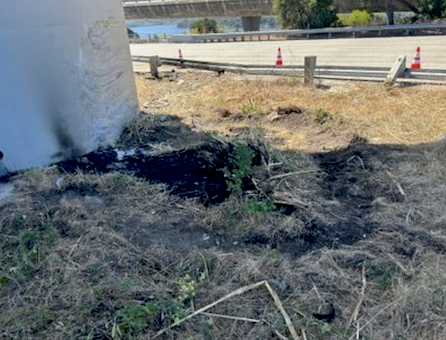 A 32-year-old San Mateo man has been arrested on suspicion of setting a series of six fires, Belmont police said.
The first fire was found about 3:40 a.m. Friday at an abandoned gas station at Hill Street and El Camino Real, police said.
When it was determined it was likely that the fire was intentionally set, officers began checking for a person seen in the area walking west on Ralston Avenue.
During that check, a grass fire was located on the north side of Ralston Avenue at Christian Drive.
While firefighters responded, a third fire was found in the center median of Highway 92 just west of Ralston Avenue, police said.
The fourth and fifth fires were seen on the hillside of westbound Highway 92 and northbound I-280.
The sixth fire was found in the center median of I-280 near the Highway 92 interchange, police said.
Nicholas Elward of San Mateo was found walking north on Interstate 280. He was arrested on suspicion of arson, resisting arrest and malicious mischief, police said.