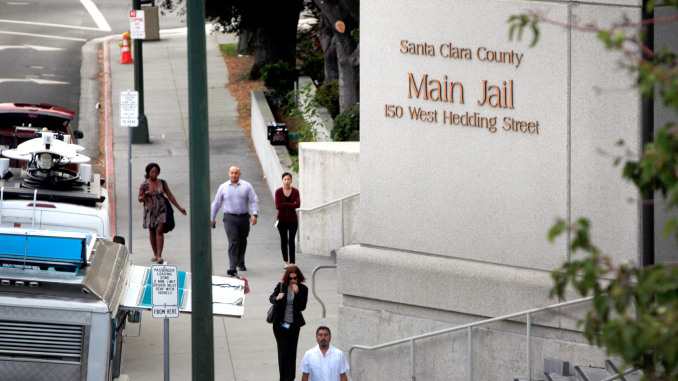 This story was originally printed June 28 in the Daily Post. To stay on top of all of the local news, pick up a copy of the Post in the morning at 1,000 Mid-Peninsula locations.
BY BRADEN CARTWRIGHT
Daily Post Staff Writer
The Santa Clara County Board of Supervisors wants to know why sheriff's deputies used tear gas and pepper spray on inmates who refused to leave their cells, going against warnings from the CDC about chemicals in confined spaces.
Supervisors voted June 27 to delay buying new military equipment for Sheriff Bob Jonsen's office until they get some answers about the incidents.
Jonsen, the former police chief in Palo Alto, is asking to buy a new bomb disposal robot, 185 replacement AR-15 rifles, 370 projectiles, 116 flashbang grenades and 40 vapor grenades.
A new state law requires law enforcement agencies to report on what military equipment they have and how they used it.
Inmates wouldn't follow orders to come out of their cells on 16 occasions between May 1, 2022, and March 31 of this year, according to the sheriff's latest report (pages 24-39).
In response, deputies used a tear gas grenade called "clear out" to gain compliance, the report says.
Deputies used a second tear gas grenade or pepper spray on a few occasions when the first grenade didn't work, the report says.
The CDC warns that chemical agents are especially dangerous in confined spaces and can cause blindness, chemical burns, respiratory failure and even death, Supervisor Susan Ellenberg said at the June 27 hearing.
Ellenberg asked the Office of Correction and Law Enforcement Monitoring, or OCLEM, to review all incidents labeled as "cell extraction" and "refusal to follow directive," when there was no immediate safety threat.
OCLEM will report on whether deputies followed the policy, and if there are any alternative practices for responding to "passive noncompliance."
The rest of the board unanimously supported Ellenberg's request. Representatives from the sheriff's office and OCLEM will return to the Board of Supervisors in August.