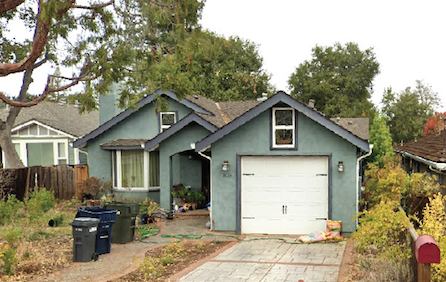 BY BRADEN CARTWRIGHT
Daily Post Staff Writer
A Los Altos woman has been arrested for allegedly locking seven dogs in cages with mounds of feces, mold and fur inside.
Gretchen Wilson, 73, also had a dead rabbit in her cabinet and three decomposing chickens in her backyard, police said.
Wilson blamed her estranged sister for leaving the animals, but prosecutors decided to charge her with three felonies for animal cruelty, and a misdemeanor for animal neglect.
She was arrested at her home on Saturday (May 27).
Two Cal Water employees were hanging roadwork notices on Feb. 16 when they arrived at 109 Lyell St., according to Officer Luis Mitre's police report.
The front door was open and a "very bad smell" was coming from inside, and a dog was in distress in the garage, workers told 911 dispatchers. Mitre arrived five minutes later. He knocked on the front door and loudly announced his presence, but he didn't get any response except for dogs barking.
"I looked into the residence and saw piles of trash, animal feces and was overwhelmed by a foul stench emanating from within the residence," Mitre wrote in his police report.
Officer Kevin Vitorelo arrived as backup, and inside they found more piles of clothing, random items and animal feces on the floor, Mitre said.
The television was on in the living room, where officers found the first two dogs.
A small dog had matted fur and was the only dog that was free to roam. Another dog was in a cage standing on a large pile of feces with mold and dog fur, Mitre said.
Dogs in cages
Inside one of the bedrooms, Mitre said he found three more dogs in a similar situation.
A large white dog was locked inside a separate unit in the backyard, without any food, water or place to relieve himself, Mitre said.
In the garage, two Great Danes were locked inside cages, each with a bowl of water that was halfway filled but no food, Mitre said.
Mitre said he didn't find any food for the dogs throughout the house.
Animal control officers from Palo Alto took custody of the dogs, as well as the dead rabbit and chickens.
Wilson then arrived at the scene, Mitre said. She told Mitre that she hadn't lived at the house for three or four months because she was living in Newark with her daughter, who was suffering from depression and anxiety.
Wilson said she only came by to pick up her mail, and that her sister had been living at the Lyell Street home and was caring for the dogs.
Wilson said she didn't have her sister's cellphone number because she had deleted it, and her sister had blocked her number anyway.
The dogs belonged to different people, Wilson said: herself, her daughter, her friend and her brother.
Wilson denied knowing the condition of the animals "but was aware the house was a mess and had a lot going on at the moment," Mitre said.
Prosecutors in the Santa Clara County District Attorney's Office decided to file charges earlier this month, and officers arrested Wilson at her home on Saturday.
She was released on $35,000 bail, and a plea hearing hasn't been scheduled.
Two dogs were released to a family member who lives in another city and agreed to keep the dogs on their own, Palo Alto Capt. James Reifschneider said. Three dogs were surrendered by Wilson to the Palo Alto Animal Shelter and have since been adopted by other families, and three dogs remain at the shelter in protective custody, Reifschneider said.