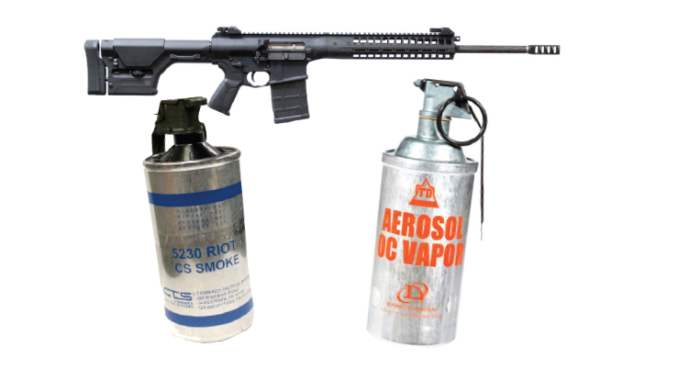 By Braden Cartwright
Daily Post Staff Writer
Los Altos City Council has approved a request from new police Chief Angela Averiett to buy 48 flashbang grenades, 25 smoke grenades, five semi-automatic rifles and two sniper rifles – despite pushback from residents who said that Los Altos is generally peaceful.
"What kind of protestors do we have in the city? Students and grannies," said resident Jeanine Valdez, arguing the data doesn't support the purchase of more weapons.
Capt. Katie Krauss explained on Tuesday (March 28) that the new gear either replaces weapons that are beyond their lifespan or adds to the inventory of a SWAT team that Los Altos shares with Mountain View. The team responds to both cities, yet Mountain View has purchased most of the equipment.
"We need to pull our own weight," Krauss said.
But Valdez said she looked at Mountain View's military equipment policy, and officers have used chemical agents one time in over 20 years. They have used zero explosives, one flashbang grenade and a sniper for observation only, she said.
"The usage data absolutely does not support this escalation," she said.
Councilman Pete Dailey thanked residents for voicing their concerns and making sure that the city is being transparent.
"It doesn't necessarily mean that every one of those challenges to the policy is going to rise to the level of being potentially supported by council members," he said before council voted unanimously to approve the purchases.
Was city document altered?
Averiett responded to pushback from residents who accused her of adding a clause to a military equipment policy after council approved it in September.
The clause allows the chief to buy military equipment in emergencies, without council approval.
The clause was left out because of a software glitch, Averiett said.
It was added back in so the chief could bring in tools, such as drones or armored vehicles, when there is an active shooter or hostage situation in Los Altos.
"It was not done because we were trying to slide one by you or slip something in," she said. "It was human error, but it was also a technical error."