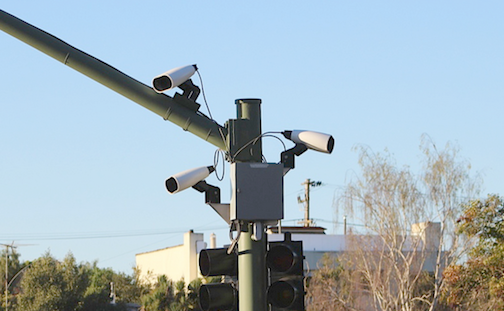 BY BRADEN CARTWRIGHT
Daily Post Staff Writer
Palo Alto City Council gave a thumbs up tonight (Oct. 24) to installing license plate reading cameras around the city that would automatically alert police officers when a stolen car or license plate is detected.
Capt. James Reifschneider got council members excited about the potential benefits.
For example, he talked about an armed robbery during broad daylight on Aug. 31, when a couple was held up by gunpoint in the parking lot at the Stanford Shopping Center.
The crime was committed by people in two cars; one was stolen and the other had a stolen plate, Reifschneider said.
If a license plate camera was installed on Sand Hill Road, then officers would have responded to the area before the crime was committed and potentially turned the robbers away.
"Even if we don't recover the (stolen) vehicle, I would consider that a small victory for the day," he said.
The proposal from the police department comes as Palo Alto and the region face a rise in property crimes, such as catalytic converter thefts, auto burglaries and retail thefts. But Reifschneider said the cameras aren't in response to any crime emergency, and they'll also be a valuable tool in solving rare crimes, like homicides.
"This seems like a logical direction to go in," Councilman Eric Filseth said.
Councilman Greer Stone said that new police technologies have had a negative impact on communities of color, so there needs to be safeguards in place to protect them.
"I'm concerned about us targeting areas of the city or neighboring cities with a disproportionate amount of demographics that have been historically targeted by police agencies," Stone said.
He said he wanted cameras distributed throughout the city and in areas with objectively high levels of crime.
Reifschneider said about 20 cameras would go along major roads, around downtown and leading into the Stanford Shopping Center. Residential neighborhoods or areas without a lot of traffic wouldn't have cameras, he said.
The meeting tonight was for council to give initial feedback only. Council members didn't take a vote, but they all said good things about the proposal.
The police department will come back with a policy and plan for council to vote on after finding a contractor to sell or lease the technology to Palo Alto, Reifschneider said.
The project would cost between $75,000 and $200,000 in year one, and between $50,000 and $150,000 each year after that.
In comparison, a single police officer costs $300,000 per year, Reifschneider said.
Councilman Tom DuBois said he wants to look at having the planning department use the cameras to better understand traffic.
Before the discussion, officers from Los Gatos and Monte Serreno talked about the success of their 14 fixed cameras, which have been in place for about 10 months.
Police recovered three stolen cars in the first half of last year before the cameras were installed, Capt. Bill Hoyt said.
With the cameras up, police recovered 22 stolen cars in the first half of this year. The department is approaching 100 cases that have been solved with the help of the license plate cameras, Hoyt said.