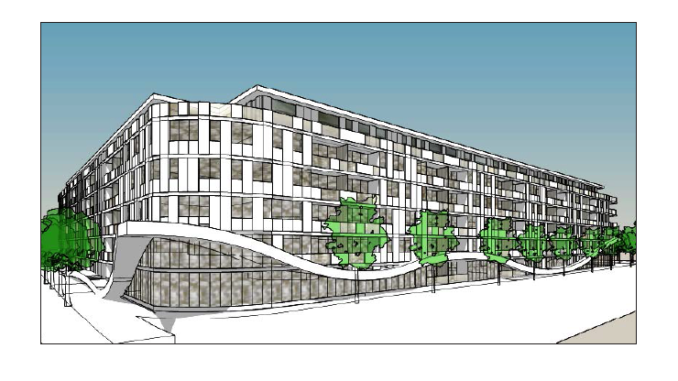 BY BRADEN CARTWRIGHT
Daily Post Staff Writer
Palo Alto City Council said tonight (Oct. 17) that a proposal to build 382 apartments next to the Barron Park neighborhood isn't anywhere close to getting their approval, as they sided with residents who called the project "grotesque" and "outrageous."
"It'd be foolish on our part to think we know better than the community," Councilman Greer Stone said. "When we see so much opposition from a neighborhood, that should give all of us pause."
Council members were unanimous against the proposal to tear down the Creekside Inn, the Driftwood Market and a restaurant to put up two apartment buildings on each side of Matadero Creek.
They agreed with residents that the 64-foot building at 3400 El Camino Real would make Matadero Avenue less safe and crowd the neighborhood streets with parked cars. They wanted to see less apartments and for the beloved Driftwood Market to stay.
"I, like many who spoke tonight, have frequented Driftwood my entire life. It's a staple in this community," Stone said.
Local developer Ted O'Hanlon presented the project on behalf of Oxford National Group, a Chicago-based developer. The city has to waive some of its rules to bring in much-needed affordable housing, he said.
The apartment complex would have 76 units (19.9%) with rents restricted to match a tenant's income in Santa Clara County.
Of those, 19 units (5%) would be for people making 140% of the average income. For a couple, that means making more than $188,000, Planning Director Jonathan Lait said.
For council, that was a non-starter.
"It's not for the janitors or for the electricians or the gardeners," Vice Mayor Lydia Kou "Even for some teachers that's not reachable, so I want to be very clear about that."
Councilman Eric Filseth said the project would be for higher income tech workers, as most of the apartments would be expensive studios or one-bedrooms. The project would be a better fit by Meta's offices, Google's offices or in the Stanford Research Park, he said.
O'Hanlon is asking the city to waive its fees that are used to fund parks and affordable housing in other parts of the city. He said it's necessary for the project to make a profit.
The city would collect about $21 million in fees from the developer, planner Garret Sauls said.
Kou said the request was "unconscionable." Filseth said O'Hanlon was asking for the waiver as a negotiation tactic, and he would back down later in the process.
The meeting tonight was a "pre-screening" for council members to give feedback before a formal application is turned in. Other recent pre-screenings for apartments have seen far more positive feedback, but no applications yet. The proposals have been along San Antonio Road, next to Town and Country and at the southern end of El Camino in Palo Alto.
A large segment of Barron Park Neighborhood Association spoke against the project. Many public speakers said they support more housing, but the proposal was too large and not in the right spot.
"Please preserve our neighborhood: Send this back to the developer and tell them to start over," resident Kelly Stafford said.
Cedric de La Beaujardiere said that by his estimation, the apartment complex could grow the Barron Park population by 15% to 30%.
Matadero Avenue is designated as a safe route to school, yet it already gets backed up and dangerous, resident Winter Dellenbach said. This project, with only two exits from the underground garage, would make the problem worse, she said.
The two-story underground garage would also cause damage to Matadero Creek, Dellenbach said. Mayor Pat Burt agreed and said the project should be further away from the water.
Stone asked City Attorney Molly Stump if the city could restrict residents of the apartment complex from parking in Barron Park.
Stump said that former Attorney General Kamala Harris ruled that it's not appropriate to limit residents of multi-family projects from single-family neighborhoods, but her opinion is advisory. Council has broad discretion about where to draw the lines for a parking district, Stump said.