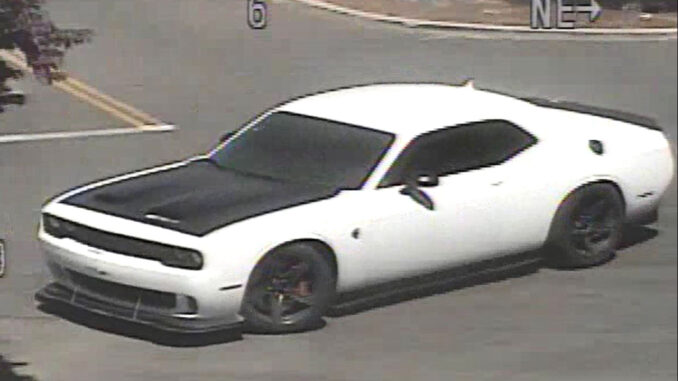 This story originally appeared in Thursday morning's Daily Post. To get the important local stories first, pick up the Post in the mornings at 1,000 Mid-Peninsula locations.
By the Daily Post staff
A group of five men armed with handguns robbed two shoppers of a purse and jewelry yesterday at the Stanford Shopping Center, police said.
One of the getaway drivers rammed the back of a truck so they could escape out of traffic, police said.
The robbery was reported at 2:10 p.m. by a loss prevention officer, who thought people were breaking into empty cars.
A male victim then called 911 to report that he and his girlfriend, both in their 30s, had just been robbed by men wearing black ski masks and gloves. The couple said when they got back to their car, a white Dodge Challenger and a white Audi sedan pulled up behind them, preventing them from backing up to leave.
Shoppers robbed while in their car
Two men got out of the Audi and approached the woman as she sat in the front passenger seat, police said.
One of the men pointed a black handgun at her, while the other reached into the car and took her purse, according to police.
The man with the gun then demanded her watch and proceeded to rip it off her wrist, police said.
Simultaneously, three more men — all armed with black handguns — got out of the Challenger and approached the male victim as he was trying to get out of his car to help his girlfriend, police said.
Violent struggle
A physical struggle ensued, and one of the robbers punched the male victim in the head and ripped a necklace from his neck, police said.
The robbers also demanded his watch and tried to pull it off him, but he resisted until they ultimately returned to their car without it, police said.
The man had minor physical injuries to his wrist and head but declined medical attention at the scene, police said.
The two cars then left the parking lot together and headed east on Sand Hill Road, where they got stuck in traffic just east of Arboretum Drive.
The driver of the Challenger tried honking to get traffic to move, but when that failed, he intentionally accelerated into the back of a black 1993 Toyota T100 pick-up in the traffic lane, ramming the truck out of his way and creating a space through which both cars could pass to continue to flee in an eastbound direction.
The driver of the pick-up wasn't injured, but his truck sustained minor damage.
Police reviewed surveillance footage from the parking lot and found a picture of the Challenger, but not the Audi or the robbers, who are at large.