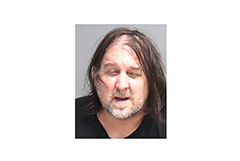 BY EMILY MIBACH
Daily Post Staff Writer
A New Mexico woman was held captive at a Belmont hotel for two years, where she was tortured by the son of one of her friends, authorities said Wednesday.
The alleged kidnapper, Ian Edard Kroe, 55, has been arrested and is being held in the San Mateo County Jail without bail.
It started in 2016, when the 74-year-old woman reached out to Kroe to express her sympathies that his mother, her lifelong friend, had died. The woman had known Kroe since he was a child, said District Attorney Steve Wagstaffe. At the time, Kroe was living in Minnesota while the woman was living in New Mexico. Kroe flew out to New Mexico and the two began a road trip up the West Coast, said Belmont police Cpl. Brian Vogel.
Since 2016, the two had been traveling up and down the coast. During the trip, Kroe convinced the woman not only to hand over her finances to him, but that people back in New Mexico wanted to hurt her, Vogel said. The two were never in a romantic situation, Vogel said. But over time, Kroe convinced her that he knew best. The two ultimately landed in August 2020 at the Hyatt House hotel in Belmont at 400 Concourse Place, behind the Oracle complex.
Kroe and the woman stayed in a room at Hyatt House for two years, police said. During that time, there were some noise complaints and other calls to police, but it wasn't until Aug. 20 that police figured out what was going on between the woman and Kroe, Vogel said.
Kroe turned down the normal housekeeping a hotel would offer, but that's not unusual for long-term guests, of which the hotel has several, Vogel said.
Woman was threatened allegedly
The woman had a phone, but Kroe was always checking it, so she had to delete text messages and had a hard time staying in contact with anyone.
Kroe allegedly threatened the woman, telling her he would kill her and her body would never be found, according to Wagstaffe.
Kroe also raped and sexually assaulted the woman numerous times, according to the DA's office.
On Aug. 20, the woman messaged a friend living in Berkeley through Twitter that she needed help and to call 911. The friend called police, but the friend's information was vague, so it took police a few days to piece together who they were seeking, Vogel said.
On Aug. 25, police found the woman and Kroe at the hotel. The woman was naked in bed with bruises all over her body and a broken finger, police said.
She was unable to move, according to police.
Sometime around last December, the woman had broken her ankle, but Kroe denied her from getting any sort of treatment, so she was unable to leave the room for about eight months, police said.
Kroe not eligible for bail
Police arrested Kroe on Aug. 25 and is being held without bail.
Kroe appeared in court on Tuesday where he was arraigned on six counts — torture, forcible rape, criminal threats, elder abuse, theft from an elder and false imprisonment by violence. Since Kroe is charged with torture, he could face life in prison, according to the DA.
He returns to court on Sept. 6.