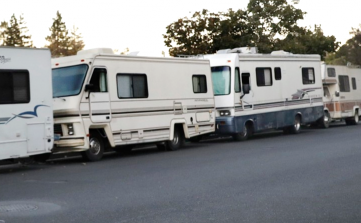 BY BRADEN CARTWRIGHT
Daily Post Staff Writer
The city of Mountain View has agreed to settle a lawsuit with a group of RV dwellers who were suing the city over a ban on large vehicles parking on narrow streets, ending a two-year legal battle.
The settlement was reached on a "class-wide basis," meaning it would apply to anyone living in their RV, not just the six people who filed the suit.
The settlement is still tentative, and the terms aren't available yet, according to a notice in federal court.
The two sides reached an agreement just before a deadline that the city set on Tuesday to begin enforcing the ban, which applies to vehicles wider or taller than seven feet parking on streets less than 40 feet wide. That's 444 streets in Mountain View, or 89% of the city.
City Council attempted to pass the ban in 2019, but they were threatened with a lawsuit by the ACLU. So, council went to voters with Measure C in 2020, and 57% of them supported the ban.
The ACLU and the nonprofit Law Foundation of Silicon Valley sued in July 2021 before enforcement began. They represented six RV dwellers: Celerina Navarro, Janet Stevens, Armando Covarrubias, Evelyn Estrada, Gabriel Rangel Jaime and Alma Aldaco.
Navarro said she lived in an apartment in Mountain View with her two children until 2015, when she couldn't afford rent anymore.
She said staying in an RV allows her to get treated for a brain tumor at Stanford, and her children cab stay in their schools.
RV dwellers argued that the ordinance is unconstitutional by threatening them with unreasonable seizures, excessive fines and restrictions on their free movement.
In response, retired City Attorney Krishan Chopra said the RV dwellers' constitutional rights "do not extend anywhere near as far as they assert."
The city has a right to tow cars, and the $65 fine is in line with other fines, she said. RV owners can park elsewhere or get the ticket canceled if they are unable to pay, she said.
"The real purpose of this litigation is to secure a right to indefinitely locate their oversized vehicles on their preferred roadways, regardless of any dangers this may pose," Chopra said.
A majority of City Council — Mayor Lucas Ramirez, Vice Mayor Alison Hicks, Councilwoman Pat Showalter, and Councilwoman Sally Lieber — opposed the ban when it went before voters in 2020.