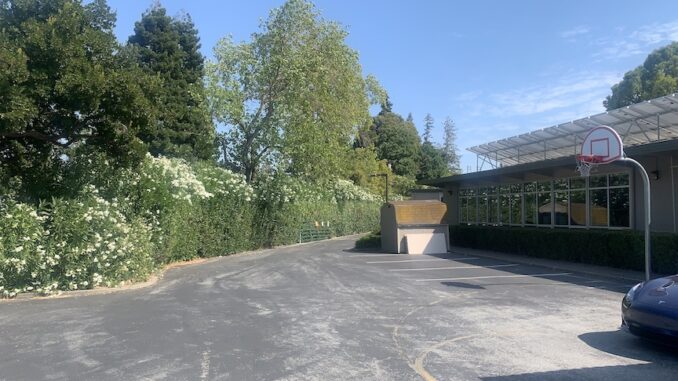 BY BRADEN CARTWRIGHT
Daily Post Staff Writer
Palo Alto City Council tonight (Aug. 22) approved a permit allowing four people to sleep in their cars at the First Congregational Church on Louis Road over the concerns of dozens of neighbors, who want background checks and for the spaces to be moved away from their backyards.
People were strongly divided during the public comment period for and against the church parking program, which would be the third in Palo Alto.
Housing advocates and church members said that people living in their cars aren't more dangerous than any other neighbors.
"Economic status is not an indicator of criminality," resident Anna Toledano said.
The 29 neighbors appealing the permit, led by resident Todor Ganev, said they wanted a hearing. They asked for the parking spots to go on the other side of the church building at 1985 Louis Road, and they wanted more vetting of the people sleeping there.
"Our concerns were all but ignored," Ganev said.
The decision on Ganev's appeal was on council's consent calendar, which means it was rejected without any discussion before a 5-2 vote. Councilman Greg Tanaka and Councilwoman Lydia Kou voted in support of the appeal.
"For something that has this much passion, this much interest — there should've been more discussion," Tanaka said.
Kou said the parking program, which she helped create, should have more regulation and oversight. If not, each application will pit people against each other, with "nasty" comments from both sides, she said.
Santa Clara County and the nonprofit that runs the program, Move Mountain View, don't support criminal background checks because they say it's a barrier to housing. Instead, social workers refer people who they think would be a good fit.
People in the program must work toward more permanent housing, and they have to leave from 7 a.m. to 7 p.m. each day. RVs aren't allowed.
The parking lot at the First Congregational Church is the city's third parking lot for the homeless. Highway Palo Alto Community in Christ opened one at 3373 Middlefield Road in May last year, and the Unitarian Universalist Church opened another at 505 E. Charleston Road in October.
Both of those sites had strong opposition from neighbors, but ultimately they were swayed after meetings with police and advocates for the homeless. This time, the church wasn't able to get everyone on board.