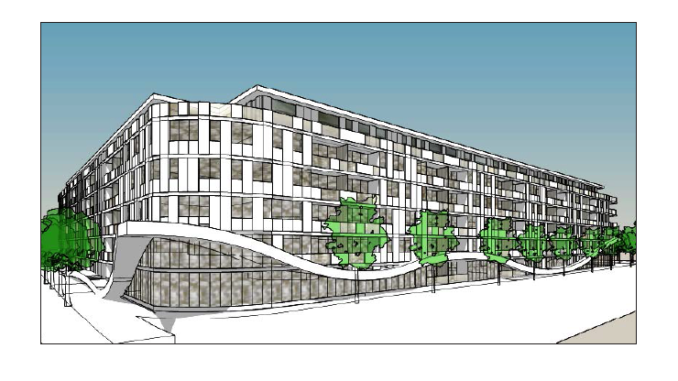 This story was first published in Saturday's Daily Post. If you want to get the important local news first, pick up the Post in the mornings at 1,000 Mid-Peninsula locations.
BY BRADEN CARTWRIGHT
Daily Post Staff Writer
One of the largest and tallest apartment complexes proposed in recent years in Palo Alto is poised to go before City Council. A developer is applying to build six stories and 382 homes at 3400 El Camino Real, next to the Barron Park neighborhood.
Called "The Residences at Matadero Creek," the project consists of two buildings on each side of the stream that would both exceed the city's 50-foot height limit.
The Creekside Inn, the Driftwood Market, and the Cibo restaurant would be torn down to make way for the development.
The developer is Oxford Capital Group, a Chicago-based company that hired local realtor Ted O'Hanlon to get the project through. Oxford Capital paid $32.7 million for the property in 2020.
Oxford purchased the property in December 2020 and has debated between enhancing the existing focus on hospitality or building multi-family housing, O'Hanlon said.
Ultimately, Oxford went with an apartment complex on the 3.6-acre property. The city has identified El Camino, and this lot specifically, as a good place for more housing, O'Hanlon said.

64 feet tall

The building would reach 64 feet at its peak. Two levels of underground parking would be put in, and there would be a spot for one restaurant and store.
The city received O'Hanlon's application on Thursday asking council to give feedback on the plans, after which he could change the plans before submitting a formal application.
A "pre-screening" meeting hasn't been scheduled. Council would have to rezone the property from commercial to residential and waive its rules on density and height for the project to move forward.
O'Hanlon, who has seen some of his previous housing proposals panned by council, wrote in a letter that council has considered several pre-screening applications, and almost none of them have moved forward in formal applications.
"The city has learned from and continues to learn from these applications," he said. "However, it is time to do more than learn."

City asked to waive fees

O'Hanlon is asking the city to waive its fees that are collected from developers to build parks and affordable housing elsewhere in the city. Oxford would be on the hook for $16 million for parks and $7 million for housing, O'Hanlon said.
"These are preliminary fee estimates, but they illustrate the magnitude of fees that are likely to be imposed on a project of this scale and that would make the provision of housing on-site infeasible," he wrote.
The project will benefit neighbors by providing a "meandering path" and benches along Matadero Creek, O'Hanlon said.The project would have:
• 44 studios;
• 243 one-bedroom apartments;
• 86 two-bedroom apartments;
• nine three-bedroom apartments.
Of these, 76 units (19.9%) would have rents restricted for people making between 80% and 120% of the average income in Santa Clara County.
That means a family of four making between $134,800 and $202,200 could qualify to have their rent set to match their income.The project proposes a total of 507 parking spaces in an underground garage and a surface lot.

Tenants would pay to park

The parking spaces would be "unbundled" from the apartments, so tenants would have to pay a fee to get an assigned parking space. O'Hanlon said this would reduce parking demand by 10%, freeing up spaces for guest parking.The building that fronts El Camino Real would be the larger one, with 316 units, the underground garage, a gym, a pool and a lobby.
The second, smaller building on the other side of the creek would have 66 apartments.The property is just down the street from a proposed development by Charities Housing to build a five-story, 129-apartment complex at 3001 El Camino, where a Nissan dealership and Mike's Bikes used to be.
Charities Housing, a nonprofit, would reserve all of the apartments for people making less than half of the county's median income, so a family of four making less than $85,000 could qualify for a reduced rent.
Charities Housing is also asking for a pre-screening by council before turning in a formal application.
City Manager Ed Shikada hasn't scheduled a meeting for either project.