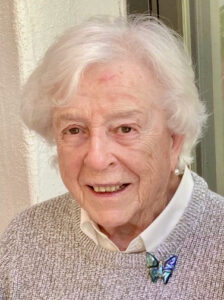 October 19, 1928 – June 20, 2022
Mercedes McCaffrey de Urkidi died on June 20, 2022, at Channing House in Palo Alto.
Of Basque heritage, she was born on October 19, 1928 in Bilbao, Spain. In 1963 she married Terence McCaffrey of Dublin, Ireland, and immigrated with him to the United States.
She taught Spanish to a generation of students at Castilleja School.
Survivors include her husband, her children Teresa (Manel Camps) and Antón (Ramona McCaffrey), and grandchildren Amèlia and Ander Camps McCaffrey.
A memorial mass was held on July 6 at St. Thomas Aquinas Church, Palo Alto.
Donations in her memory may be made to Friends Outside (http://www.friendsoutside.org) or Catholic Worker's House (545 Cassia St., Redwood City, CA 94063).