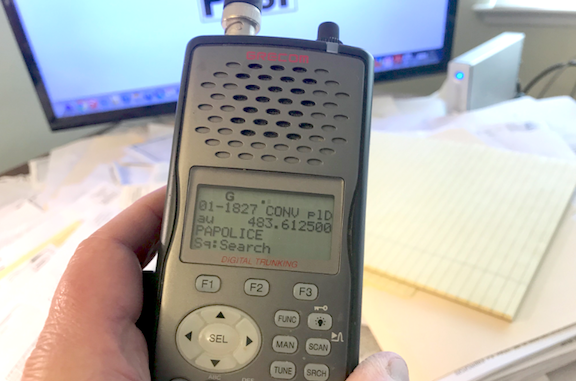 This story was printed in this morning's Daily Post. Be the first to read important local news stories by picking up the Post in the mornings at 1,000 Mid-Peninsula locations.
BY BRADEN CARTWRIGHT
Daily Staff Writer
Senate Bill 1000, which would require police departments to unencrypt their radios, passed its first hearing yesterday on a 4-1 vote by the state Senate Public Safety Committee.
State Sen. Rosilicie Ochoa Bogh, R-Yucaipa, voted no because she said unencrypted radios could make it easier for criminals to know what police are doing.
The bill's author, state Sen. Josh Becker, D-Menlo Park, told her police radios have been unencrypted for 70 years, and his bill is just restoring what has been in place. Four Democrats outnumbered Ochoa Bogh, the lone Republican on the committee.
Becker introduced SB1000 last month to restore the public's ability to listen to police radio communications. The bill is Becker's response to a state Department of Justice memo from October 2020 that told police departments to withhold personal information from public transmissions.
The DOJ gave law enforcement two options: encrypt radios, or create a policy for officers and dispatchers to protect personally identifiable information from being heard.
Becker's bill would require agencies to go with a policy protecting personal information, like the CHP does. CHP officers and dispatchers leave out parts of personal information when they read it over the radio, a procedure that is approved by the state Department of Justice. Other agencies, like Palo Alto, went to encryption.
Several journalism groups spoke in support of the bill. Unencrypted radios are critical to inform the public during natural disasters and mass shootings, said Jennifer Selig, a producer for KCBS Radio and board member for the Radio Television Digital News Association.
"We need to know what first responders are doing in real time," she said.
One opponent
The bill only has one opponent, the California State Sheriff's Association. Legislative director Cory Salzillo said smaller departments have already spent a lot of money upgrading their system, and they have concerns about the cost of unencrypting.
Becker pushed back. He said it's actually cheaper not to encrypt because upgrades aren't required, so the bill would save money. The bill will be heard next by the Senate Appropriations Committee.
"You never know in appropriations, but I'd say we're hopeful," Becker said.