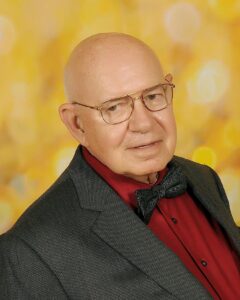 August 2, 1938 – January 4, 2022
Will Richardson (83) died on January 4, 2022, after a lengthy battle with Alzheimer's and Parkinson's disease in San Diego, CA. He was born in Cincinnati, OH to Floyd Willis and Dorothy (Koerner) Richardson of Redwood City, CA on August 2, 1938.
"Willis, Willis, how can we say, all that we want to about you? We're so happy that you came our way, we're not sure what we'll do without you."
Will lived the first eleven years of his life in Cincinnati on Price Hill, which he proudly said was near the site of the first Skyline Chili. The family moved to Redwood City, CA in 1949, where Will spent most of the rest of his life. He met his wife, Esther "LaVonne" Gadow, while in high school and later married in 1958.
He graduated from Sequoia High School and College of San Mateo. He worked for several years as a parts expeditor for United Airlines, then joined his father working as a real estate agent, and later became a broker for Terrace Realty for over 48 years. This line of work was perfect for Will as he was truly a "people person" and had a knack for numbers. He helped many people settle into their homes in Redwood City. He retired from the real estate business in 2012.
Friends and family of Will remember him as an extremely generous person. He loved to bring a smile to the faces of other people — friends and strangers— for which he was awarded Citizen of the Year for Redwood City in 1997. He would carry small gifts, such as toy cars or bouncy balls, to give to children he would see as he went about his daily activities. He would engage restaurant servers and others with stories, songs, compliments and gifts that would make even the grumpiest person smile. One of his favorite acts of kindness would be to sign a $2 bill and give it to someone, such as the wait staff on a cruise ship, and tell them if they ever see him again in the future, he would turn that $2 bill into a $20 bill … which came true for several people who carried around their signed bill for years!
Will was also known for his poems, which he loved to recite to friends and strangers alike. One memory was when he walked out on a pier at Avila Beach and encountered a family scattering the ashes of a loved one in the ocean. Will gathered the family together, and holding hands, he lead them in a prayer and recited his favorite poems (including "When Tomorrow Starts Without Me"). That family thought he'd been sent from God because they hadn't been able to schedule a minister to attend, yet Will showed up at the right time to help them in their grief.
Faith was important to Will. He was active in the Catholic Church, including Saint Pius, Saint Matthias and Mount Carmel Catholic Churches, and he was instrumental in the creation of the annual Bethlehem AD live nativity in Redwood City.
Will was a huge fan of the San Francisco Giants baseball and 49ers football teams, having enjoyed season tickets to both for many years. Will's hobbies included flying kites, skiing, and bike riding. He pedaled thousands of miles across the United States from San Francisco to the East Coast, and from Canada to Mexico on numerous occasions. He also was an avid fisherman and he enjoyed going to the horse races.
Traveling around the world was one of Will and LaVonne's passions. Early on, the couple spent many vacations on the beaches of Hawaii, but later in life they took up cruising. The two of them have been on over 100 cruises: the family jokes that the captains of cruise ships could probably consult with Will if they had any questions on the various ports. You could tell when Will had visited a new port of call because children could be seen playing in the streets with their new bouncy balls!
Besides his wife, LaVonne, of 63 yrs., Will is survived by his children, Jeff (Penny) Richardson of Redwood City, CA; Karen (Carl) Wallstedt of San Diego, CA; Mark (Jill) Richardson of Reno, NV; as well as grandchildren Joe Kisner of Ridgecrest, CA; Keri (Kendrick) Cochran of Redwood City, CA; Jeri (Colton) Daines of Redwood City, CA; Dustin (Christine) Wallstedt of Georgetown, MA; Kyle (Elizabeth) Wallstedt of Encinitas, CA; Nicole (David) Whiteside of San Diego, CA; and Matt Richardson of Santa Rosa, CA; and by great grandchildren Danielle and Aaren Kisner; Kyle, Kamryn, Kody, and Kenzie Cochran; Brady Daines; and Jasper Wallstedt. Will is preceded in death by his parents; brother, Kenneth Richardson; and grandson, Andrew Richardson.
When asked what Will was most proud of, he would say, "My family." He loved spending time with his family; he will be greatly missed by them and all who knew him.
A Mass will be held in Will's honor on Saturday, May 14 at 10am at St. Pius Catholic Church, with a Celebration of Life and luncheon immediately after in the St. Pius gymnasium. In lieu of flowers, the family suggests donations may be made to: Sequoia Awards (sequoiaawards.org) or the charity of your choice.