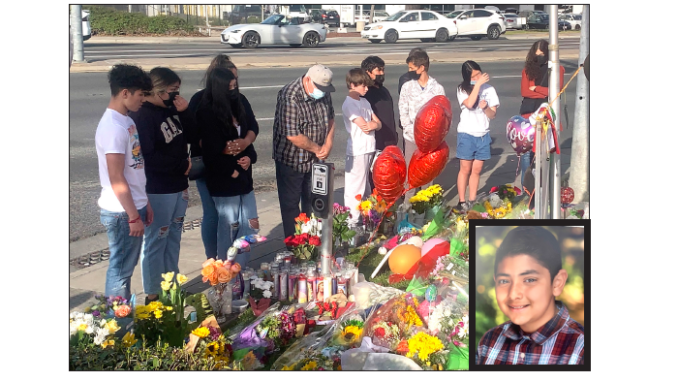 By the Daily Post staff
Update, Friday, 11:55 p.m.
Classmates of George "Andre" Oseida, who was hit by a dump truck and killed at El Camino Real and Grant Road, gathered on Friday to remember the 13-year-old as a caring friend with a bright future.
Hundreds of people left candles, flowers, balloons, signs and cards at a makeshift memorial for the Graham Middle School at the intersection by the Alliance gas station. His bike rested nearby.
"(Andre) was good at everything, and he got along with everyone," said classmate Sean Aparisi, 13. "He's forever in our hearts."
For more information, get Saturday's edition of the Daily Post at 1,000 Mid-Peninsula locations.
Original story, Thursday, 4:07 p.m.

A 13-year-old boy riding his bike was killed this morning (March 17) in Mountain View after a truck struck him in the intersection of Grant Road and El Camino Real, the city announced.
The victim was a student at Graham Middle School, said Ayinde Rudolph, the superintendent of the Mountain View Whisman School District.
"There are no words that I can say to help take away the pain that we are collectively feeling," Rudolph said in an email to families
The crash was reported at 8:15 a.m. at El Camino and Highway 237 between a cyclist and a transport truck.
First responders tried "life-saving measures" at the scene, but the boy died at the hospital, police said.
The driver involved in the collision remained on scene and was cooperative with officers, police said. Speed, drugs or alcohol are not factors in the collision, police said.
The city said in a statement that it will work with Caltrans, which is responsible for operating El Camino, to "determine if any refinements should be considered" for the project currently in the design phase to add bike lanes and pedestrian improvements to El Camino.
MORE ON THIS STORY in tomorrow morning's Daily Post.