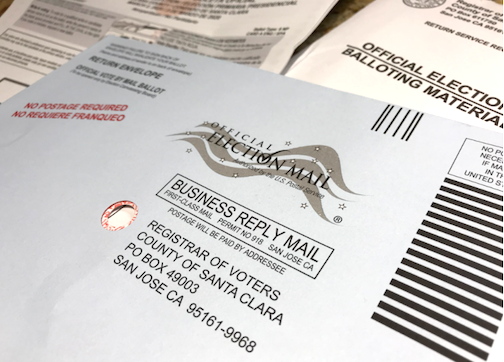 BY EMILY MIBACH and BRADEN CARTWRIGHT
Daily Post Staff Writers
Friday was the deadline for candidates to file for the June 7 primary for county, state and congressional races.
Candidates in races where the incumbent is not seeking re-election have until Wednesday to get on the ballot.
Here's a list of the candidates in each race on the Mid-Peninsula:
Santa Clara County Sheriff
Sheriff Laurie Smith, who is facing accusations of bribery, an Attorney General investigation and calls for her resignation, announced Thursday that she is not running, so the race is between four candidates: retired sheriff's Capt. Kevin Jensen, retiring Palo Alto police Robert Jonsen and two jail sergeants, Chrstine Nagaye and Sean Allen. However, additional candidates can jump in by Wednesday. The top two will face-off in November.
Congressional District 15
Incumbent Rep. Jackie Speier is not seeking re-election, resulting in the open congressional seat since 2008.
Vying for her seat are East Palo Alto realtor Ferenc Pataki, Half Moon Bay resident and Republican Gus Mattammal, Redwood City attorney Andrew Watters, Assemblyman Kevin Mullin, Burlingame Councilwoman Emily Beach and San Mateo County Supervisor David Canepa. The top two will face-off in November.
Congressional District 16
Incumbent Anna Eshoo is challenged by Palo Alto Councilman Greg Tanaka, Saratoga Councilman Rishi Kumar, former Menlo Park Mayor Peter Ohtaki and attorney Ajwang Rading.
Assembly District 22
Because Assemblyman Kevin Mullin, D-South San Francisco, is running for Speier's seat, his seat is up for grabs.
Those who have pulled papers to run are Redwood City resident Tania Sole, Redwood City Mayor Giselle Hale, South San Francisco councilman James Coleman, San Mateo Councilwoman Diane Papan, small business owner Mark Gilham, San Mateo County College Board member Maurice Goodman and Redwood City attorney Alison Madden. Candidates have until Wednesday to finalize their paperwork.
The top two in will face-off in November.
Assembly District 23
Incumbent Marc Berman is facing Republican Tim Dec.
Santa Clara County District Attorney
Incumbent Jeff Rosen is facing off against two candidates, public defender Sajid Kahn and Daniel Chung, a former deputy district attorney.
Santa Clara County Assessor
Valley Water board member and internet entrepreneur Gary Kremen dropped out of the race after news came out that a former employee saw a picture of Kremen and his girlfriend in bed without shirts, leaving just one candidate, accountant Andrew Crockett, challenging longtime incumbent Larry Stone.
San Mateo County Board of Supervisors
Two seats are opening up on the county's board of supervisors since incumbents.
Carole Groom and Don Horsley are termed out.
Groom represents San Mateo, Foster City and part of Belmont. Running to replace her are San Mateo-Foster City school trustee Noelia Corzo, San Mateo resident and investigator Cameron Rolfe and Belmont Councilman Charles Stone.
Horsley's district represents residents in Pacifica and Half Moon Bay, San Carlos, Atherton, Woodside, Portola Valley and parts of Menlo Park and Belmont. Running to replace him are San Carlos Councilwoman Laura Parmer-Lohan, Menlo Park Fire Director and Harbor Commissioner Virginia Chang Kiraly, Menlo Park Councilman Ray Mueller and Half Moon Bay resident and International Brotherhood of Electric Workers 617 political director Steven Booker.
The top two in both races will face off in November.
SMC Assessor-County Clerk-Recorder
San Carlos resident and teacher David Pollack is running against incumbent Mark Church.
San Mateo County Sheriff
Sheriff Carlos Bolanos is facing a challenge by Capt. Christina Corpus, who runs the sheriff's Millbrae department.
San Mateo County Superior Court Judge
Judge Joseph Scott did not file for re-election, and candidates seeking to replace him had until yesterday to finalize their paperwork with the county elections office. Last month, two people had pulled paperwork, San Mateo County Deputy District Attorney Sharon Cho and retired Santa Clara County Deputy District Attorney Timothy Pitsker. But Pitsker did not return his paperwork, so Cho will get the seat once Scott's term ends.
San Mateo County offices
No one has filed to run against County Controller Juan Raigoza, Treasurer-Tax Collector Sandie Arnott, District Attorney Steve Wagstaffe, Coroner Robert Foucrault and County School Superintendent Nancy Magee.