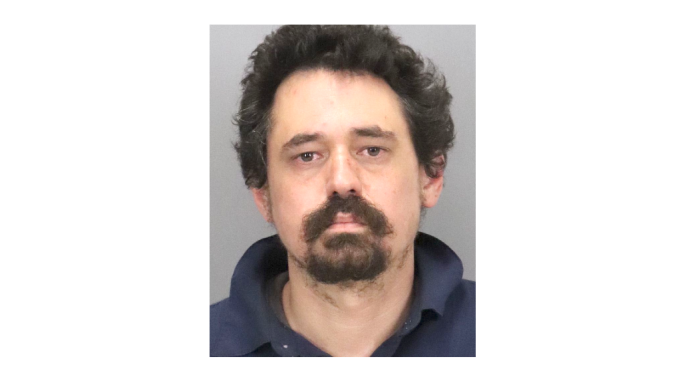 By the Daily Post staff
Palo Alto police say they have arrested a man on suspicion of breaking the windows of several downtown businesses this morning (Jan. 31), resulting in damage that could exceed $100,000.
Joshua Sinclair Kahan, 37, of Palo Alto, was arrested and booked into jail on 12 counts of felony vandalism.
At 3:54 a.m., police received a call about vandalism that had just occurred at the SliderBar at 324 University Ave. The caller said a man kicked and shattered a front window of the restaurant and continued walking. The caller reported that other businesses in the immediate vicinity also had broken windows.
Police arrived and detained Kahan.
Officers checked around and found other broken windows at:
• Siam Royal, 338 University Ave.;
• the Apple Store, 340 University Ave.;
• Design Within Reach, 355 University Ave.;
• Union Bank, 400 University Ave.;
• YAYOI, 403 University Ave.;
• Lululemon, 432 University Ave.;
• Form Fitness, 445 Bryant St.;
• Apercen Partners LLC, 314 Lytton Ave.;
• and commercial properties at 255, 265 and 390 Lytton Ave.
None of the properties appeared to have been burglarized. Initial replacement estimates from the various businesses are still pending, though police believe the total damage to be well in excess of $100,000.
Police said they believe Kahan used physical force or items such as rocks and trash can lids to help him break all of the windows in a short period of time.