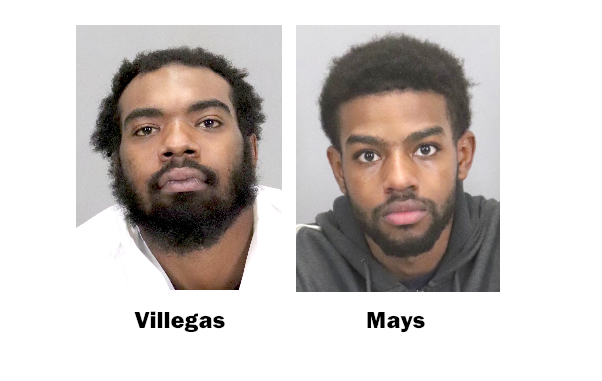 By the Daily Post staff
Palo Alto police today said they have arrested two men suspected of breaking into eight cars in the California Avenue district who were caught because of a tracking device on one of the electronic items they allegedly stole.
Arrested were Azari Benjamin Mays, 22, and Treshawn Cortez Villegas, 21, both of Stockton, according to police.
Police say the pair broke into cars in parking lots Thursday night in the 300 block of Sherman Avenue, the 2300 block of Birch Street, the 400 block of Cambridge Avenue, the 2600 block of El Camino Real, and the 4200 block of El Camino Real.
Police got several calls about the auto burglaries including one from a woman who was using an app to track an electronic item taken from her car. She said she was tracking it to the 600 block of San Antonio Road in Mountain View at San Antonio Center where there's a Safeway and several restaurants. Officers headed in that direction.
Soon, though, the thieves were on the move, and were tracked to the 2500 block of W. El Camino Real, the parking lot behind Walmart.
Police said they spotted a silver 2013 Hyundai Elantra rental driving quickly through the lot.
Officers followed that car and ultimately stopped it in the 900 block of San Antonio Road in Los Altos for assorted moving violations and equipment violations at about 9 p.m. The victim reported that the item was now tracking to the location of the car stop.
When police searched the Hyundai, they found items that had been taken in the car burglaries that night, and they arrested the two men inside. Each of the men had a window punch tool that makes it easier to break a car window, police said.
Police, in a statement released this morning, noted that the victims had generally left their valuables in plain view in their cars. Typically the items were backpacks containing laptops and other electronic devices. Police advise people to never leave valuables in an unattended car.
The suspects were booked into the Santa Clara County jail on suspicion of several counts of burglary, conspiracy and possession of burglary tools, according to police.