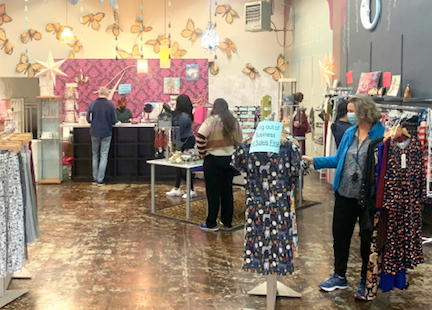 This story was originally printed in Saturday's Daily Post. If you don't want to miss important local news stories, pick up the Post in the mornings at 1,000 Mid-Peninsula locations.
BY BRADEN CARTWRIGHT
Daily Post Staff Writer
A women's clothing store that opened 15 years ago on Castro Street in Mountain View is the latest small business casualty on the mid-Peninsula, pushed to close by an Americans with Disabilities Act lawsuit, rising minimum wage and competition with online shopping.
"Things piled up, and we reached a breaking point," said Tamara Michel, who owns Boutique 4 with her sister, Julie. Face-to-face interactions with shoppers are the store's specialty. The conversations help them refine their inventory, and customers can try on clothes, which come in many shapes and sizes, Michel said.
The store tried online sales but had too many returns. They've only lasted this long because of help from their landlord, Nancy Gee, Michel said.
Last summer, Michel was served with a lawsuit at her home from Scott Johnson, a quadriplegic who has sued thousands of businesses across California for violating the Americans with Disabilities Act.
Johnson has served business throughout the mid-Peninsula, including up and down University Avenue in Palo Alto and Laurel Street in San Carlos. He has also targeted businesses up and down El Camino Real.
Like other business owners who Johnson sued, Michel says that he never visited her store.
Johnson often repeats his claims. At Boutique 4, he said that the door handles weren't compliant with ADA rules, and the counters were too high.
Michel said he was right about the door handles, but a city worker told her that the counters were OK.
Fight or settle
Michel said she could either fight the lawsuit and spend more than $50,000 on lawyers, or settle and pay Johnson around $15,000.
Johnson is currently facing federal charges for tax fraud, with a trial set for April 4.
These lawsuits are a serious issue, hitting businesses when they can't afford to spend thousands of dollars on legal fees, said Peter Katz, the president of the Mountain View Chamber of Commerce.
It's disappointing, Katz said, because business owners welcome people with limited mobility and want to do whatever they can to make them feel comfortable. The lawsuits often cite violations that could be easily addressed if businesses were told about the violations without a summons, Katz said.
The city and chamber walked Castro Street to alert businesses and held a webinar on ADA in August. Business owners were advised to hire a "certified access specialist" to make sure all of the requirements are met.
Minimum wage hikes hit shop hard
Another factor that pushed Boutique 4 to close is Mountain View's rising minimum wage, which went from $16.30 to $17.10 on Jan. 1, a 5% increase.
Michel said she and her sister have worked for 20 days straight to save money on payroll. They have two employees now, down from a peak of six.
Michel said she wishes Mountain View would pass a lower minimum wage for small businesses like hers, and a higher minimum wage for businesses like Wal-Mart.
California's minimum wage is $1 lower for businesses with fewer than 25 employees.
Street closure also an issue
The closure of Castro Street has also hurt, Michel said. She understood the move at the beginning of the pandemic to give restaurants space for outdoor dining, but the closure has become less of a positive as time has gone on.
Shoppers don't know how to find her store, and people who drive to downtown are less likely to come, Michel said.
Only a few retail stores are left on Castro Street, and many of the building space is vacant, Michel said.
Castro Street is closed until Jan. 3, 2023, and the city is studying how to make it permanent.