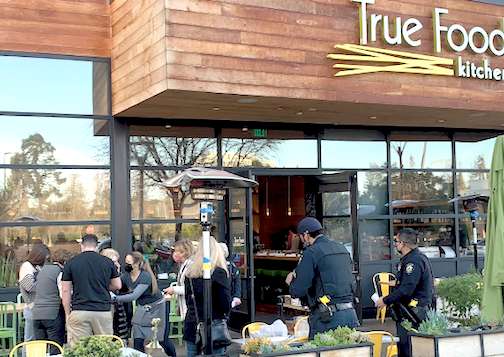 BY BRADEN CARTWRIGHT
Daily Post Staff Writer
A man wielding a fake handgun took purses from two women eating lunch outside True Food Kitchen at the Stanford Shopping Center and then fled on a bike yesterday (Jan. 18), police said.
Officers responded at 2:47 p.m. to reports of an armed robbery.
Witnesses told police the thief fired a round into the air before leaving.
A woman in her 70s and another in her 80s told police that they were having lunch together when a man in his late teens or early 20s approached them. He showed them a black handgun and demanded their purses, and they complied, police said.
The thief was last seen on a blue bicycle riding north toward Sand Hill Road. Officers searched but couldn't find him.
The victims said they heard a "pop" or a "click" noise come from the gun, police said. Other witnesses said they saw an orange color on the gun, possibly at its tip, so the gun might be a realistic toy. Toy guns have orange around their barrels to indicate that they're fake. Officers didn't locate any bullet or find any damage.
The Post heard the report of a robbery where a gun was fired in the air from the Menlo Park police radio. Palo Alto encrypted their radio communications last year, but many other departments including Menlo Park and the CHP continue to broadcast over the air.
When the Post went to the mall to ask people about what happened, security asked the reporter to step aside and wait for David Hsu, the director of marketing for the Stanford Shopping Center.
Hsu told the Post that Simon Properties, the company that runs the mall from Stanford University, doesn't allow press on its property, and he asked the reporter to leave or be escorted out by security guards for trespassing.