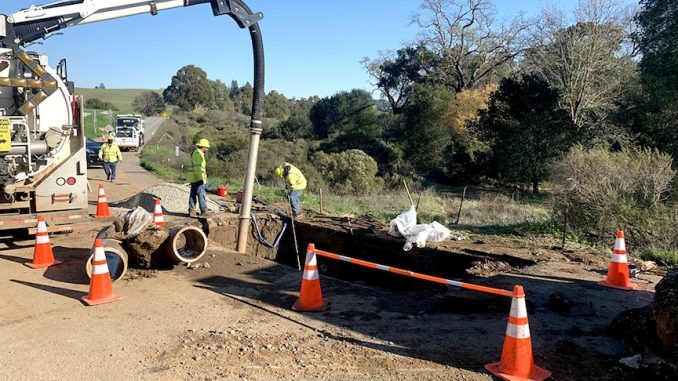 BY BRADEN CARTWRIGHT
Daily Post Staff Writer
An unexplained spike in water pressure caused a large pipe to break in two weak spots and leak hundreds of thousands of gallons in the Palo Alto foothills, city officials said.
The pipe brings water from the Hetch Hetchy system to Palo Alto residents and businesses.
One of the leaks is still spilling 900 gallons per hour and isn't expected to be repaired until Friday at the earliest, city utilities spokeswoman Catherine Elvert said.
The other leak was fixed after 165,000 gallons were lost, Elvert said.
The "abnormal" spike in water pressure on Sunday afternoon is under investigation, Elvert said.
"It was a big gusher for a while," Mayor Pat Burt said. "It looked like the sort of thing that happens when somebody knocks over a fire hydrant."
The break that was repaired, on a 16-inch main under the 1600 block Arastadero Road, was detected first. Crews came with heavy equipment to dig up a dirt road and stopped the flow within a couple of hours. They repaired it fully early Tuesday morning, Elvert said.
The larger break was about three-quarters of a mile east, on an 18-inch main in a backyard near Page Mill Road and Interstate 280.
The pipe broke between a pool and Arastadero Creek, so workers couldn't use a backhoe to dig. They hand-dug through the night, Elvert said.
The pipe continues to leak about 15 gallons per minute, Elvert said. She didn't say how much water had leaked there so far.
Because of its tricky location, the main requires a special part installed with special equipment at a special angle, so it could take days to fix. Contractors are still trying to figure out the fastest and most effective solution.
"It is possible that the damage could be fully repaired by as early as Friday," Elevert said in an email.
All of the customers served by the broken mains could get water diverted from elsewhere in the system, so nobody was without service, Elvert said.
If the situation were to worsen, then the city has a connection with the Purissima Hills Water District that can be switched on in emergencies.
Palo Alto buys its water from the San Francisco Public Utilities Commission, which imports it from the Hetch Hetchy system.